Sunnyvale officially came out June 3 for National Pride Month, throwing a historic event on Historic Murphy Avenue. Pride night, beginning at 5:30 p.m., was the City's first ever public Pride event.
"It's great to celebrate being a diverse community. Love for everyone and making sure everyone is part of our community is what this is about," said Sunnyvale Mayor Larry Klein, who raised the Pride flag at City Hall June 1. "We pride ourselves on openness and respect for all."
Attendees had their photos taken, framed by an archway of rainbow-colored balloons. Sunnyvale Pride stickers and pens with multi-colored ink were given out. Recorded music played in the background.
SPONSORED

Outdoor diners at Murphy Street's many restaurants and a small standing crowd, listened as the festive evening kicked off with welcome remarks.
Emcee Mike Johnson, Sunnyvale Downtown Association Executive Director, introduced the speakers.
Alysa Cisneros grew up in Sunnyvale and is proud to be Sunnyvale's first openly queer councilmember.
Elected in 2020, she sees a shift toward prioritizing diversity, equity and inclusiveness in all the work the Council does. Council Resolution 975-19, adopted Dec. 3, 2019, resolves that the Pride Flag be displayed at City Hall annually, June 1 to June 30.
"I never dreamed that I'd be able to be open in Sunnyvale," said Cisneros, who challenged the crowd to consider other major social issues they might dare to take on.
Although the atmosphere was celebratory, Cisneros cautioned not to take progress on queer inclusion and equity for granted just because of living in the Bay Area.
"We still die for who we are," Cisneros said.
Sunnyvale Chief of Police Phan Ngo, mingling with the crowd, wore a Pride patch on his uniform. Wearing the patch for the month is voluntary, and all but 20 of the 200 patches ordered — paid for by a donor — were already given out.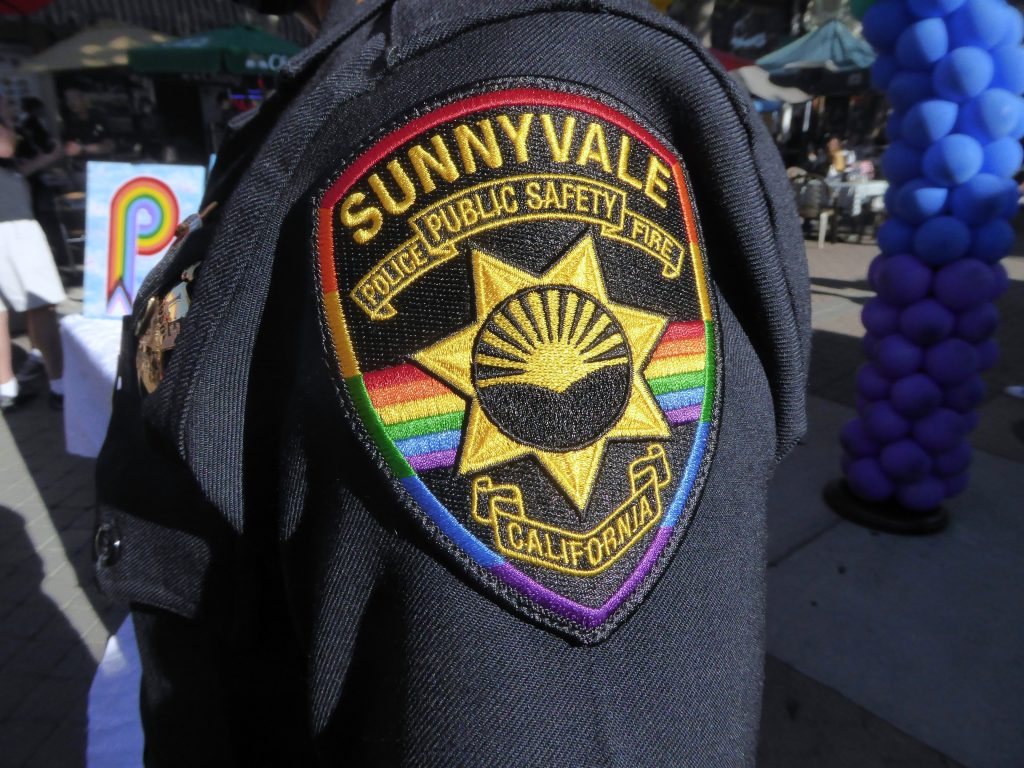 "If law enforcement can show our support, it will help reduce the incidences of intolerance or hate against the queer community," said Ngo.
"Who is not here? Who else do we need to fight for — blacks, women, trans-women, immigrants…which others?" asked speaker Sera Fernando, representing the Santa Clara County Office of LGBTQ Affairs.
"Small actions, pushes, nudges, make someone feel safe to come out — just raising a flag or wearing a sticker," said speaker Bryan Rodriquez, representing Silicon Valley Pride.
Sunnyvale Pride Night was sponsored by KeyPoint Credit Union and Mike Klein's State Farm Insurance Agency.
"A healthy community is a community that gets together…and includes everyone," said Mike Klein.
Pride Month commemorates the 1969 uprising of the queer community against police persecution in New York City. The uprising is credited with beginning the movement to outlaw discriminatory laws and practices against LGBTQIA+ people.
Partners Jared Rodgers and Riley Huxtable came to Pride Night from San Jose to show support.
"It was kind of sweet, nice, to see people of all ages and backgrounds turn out—especially after the pandemic," said Rodgers. "There is a pattern now of more [Pride] events popping up throughout the Bay Area."