The San Tomas & Monroe Neighborhood Park and Community Garden in Santa Clara was renamed to honor the late Everett N. "Eddie" Souza.
Souza, the grandson of Portuguese and Sicilian immigrants to the U.S, was a third-generation Santa Claran, Vietnam War Navy veteran and two-term mayor of the city he grew up in.
A cement marker for the two-acre Everett N. "Eddie" Souza Park, 2380 Monroe St., was unveiled at a morning dedication ceremony on June 22. The park, which opened August 25, 2018, is Santa Clara's first community garden park, with half an acre devoted to raised-bed garden plots.
SPONSORED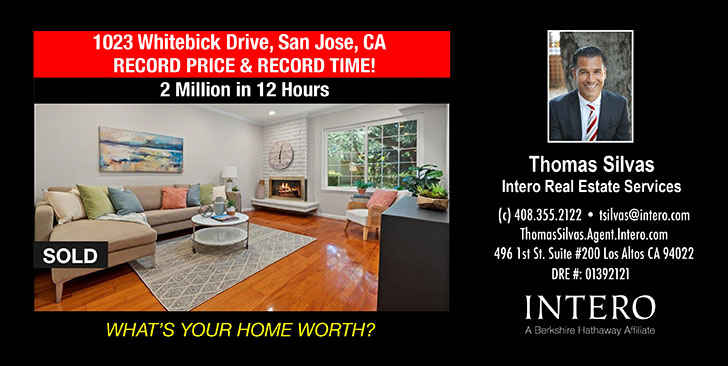 "[It's] the perfect park for Eddie. Eddie was a gardener," said his wife, Lavelle Souza. "His gardening skills, including grafting, were taught to him by his grandfather, who owned three orchards."
Lavelle Souza said that her husband's garden was filled with flowers, shrubs, trees, vegetables, herbs, berries and Chardonnay grapes. He grafted a variety of 27 fruit trees.
"If Eddie could have been alive today, he would have so much fun conversing with everyone and sharing information with the gardeners and just enjoying the gardens," said Lavelle Souza.
Eddie Souza died in 2016 at age 72. He first ran for City Council as a Buchser High School student but wasn't elected until several tries later in 1979. He was elected Mayor in 1985 and re-elected in 1990.
Souza is credited with bringing the 49ers training camp to Santa Clara in 1985, believing it to be a step toward drawing a major league sports stadium to Santa Clara and a catalyst for Northside development.
After their only child, Jerry, suffered irreversible brain damage in 1975, seven weeks after birth, Eddie and Lavelle Souza became advocates for the disabled. They were co-founders of the non-profit Parents Helping Parents, a San Jose-based support group for parents of children and youth with special needs.
Through City programs, Eddie Souza helped the homeless and seniors, and funded afterschool care.
"[Eddie] stood up for the people who couldn't stand up for themselves," said friend and former Santa Clara Council Member Kevin Moore.
The park ceremony was attended by about 75 family, community members and City dignitaries, including life-long friend Richard Santos, S.E.S. Portuguese Hall members and YMCA life guards who have assisted Jerry Souza in water therapy.
Goddaughter Waskonas Wadaunosee from Iowa and life-long friend Ed Souza (not related) from Santa Barbara came the farthest.
City dignitaries included City Manager Deanna J. Santana, Council members, Santa Clara County District 4 Supervisor Susan Ellenberg and Mayor Lisa Gillmor, who proclaimed it "Eddie Souza Day."
"[Eddie] really made Santa Clara a much better place to live," said Gillmor. "I'm sure he would approve of the park and community orchard. It's almost in the exact center of town. It's open and visible to the community."
City parks can be renamed to honor outstanding community members at the recommendation of the Parks and Recreation Commission and with the approval of the City Council.
"We're trying to name the parks for people who have done a lot for our community," said Roseann Alderete LaCoursiere, one of four commissioners at the ceremony. "Most of us on the Commission knew Eddie. He did a lot for our City, and he was very colorful."
Lavelle Souza thanked the City and the Parks and Recreation Department for the time and effort they put into making the morning a fitting and fun tribute to Eddie Souza.
"As I looked around, I could see that everyone was actually having fun," said Lavelle Souza later. "The gardens were open and there were even games for kids."
"It's a wonderful day to celebrate a wonderful, service-oriented native Santa Claran," said City Parks and Recreation Department Director James Teixeira.