Fate was smiling on Santa Clara last Saturday when she delivered a cloudless, sunny autumn day for Santa Clara's Parade of Champions to make its post-pandemic comeback.
Smiles were broad and everyone cheered as colorful floats, seven marching bands, dancers, classic cars and a host of diverse youth, multicultural, and community service groups wound their way from Market to Alviso Streets.
The high turnout showed that people are ready to put COVID-19 behind them and welcomed the opportunity to see neighbors and celebrate the community.
SPONSORED

"We had great participation and very diverse groups this year," said Santa Clara Parade of Champions President Ana Vargas-Smith. "Our non-profits, mom and pop [stores] and heroes needed some visibility after COVID."
Santa Clara natives and long-time residents Cathy Silva and Deb Rose enjoyed the return of an event that was part of their childhood memories.
"We always came to the parade," Silva said. "Now my niece and husband are both in the parade."
"I remember coming with my parents and grandparents in the 60s and 70s," said Rose. "Then one year, it rained and we didn't have the parade. I can still remember how disappointed I was."
The Elsaveda family had a front row seat to the show from their home on Monroe Street.
"It's wonderful," said Karim Elsaveda. "I'm glad we're past the pandemic and can do this again."
Some, like Richard Chavira, came from San José to enjoy the parade. Chavira himself is part of South Bay history — he and his brother owned Lou's Living Donut Museum in San José.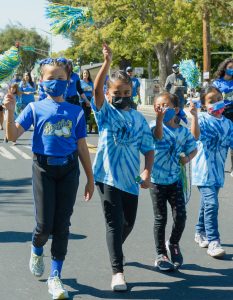 Chavira calls Santa Clara his "home away from home." A member of our Lady of Perpetual Help Church on Monroe Street, Chavira made the trek in his wheelchair from San José, with the help of VTA.
"When I heard the parade was going to be held," he said, "I wanted to make sure I was there."
This year's parade honored community heroes — in particular, the medical, public safety and essential workers that have served the community tirelessly during the pandemic — and celebrated Santa Clara's rich history in a colorful and diverse meeting of past and present.
Santa Clara's Portuguese heritage was represented by century-old Santa Clara S.E.S. (Sociedade do Espírito Santo) Festival Queens and its Filarmonica band, and representatives of San José's Portuguese Historical Museum.
Fast-forward to the 21st century, and the award-winning Wilcox Robotics Team marched with their — what else? — robotic hand to wave to the crowd.
But not everyone thought bands, dancers and floats were the best parts of the day. Three-year-old Joa thought Mio Vicino's pasta special was the best, giving it a thumb's up.
"We first came to the parade in 2019," said Joa's dad, Micah. "I'm glad we can get out and see and do normal things again."
Parade of Champions Celebrates More than a Half-Century of Tradition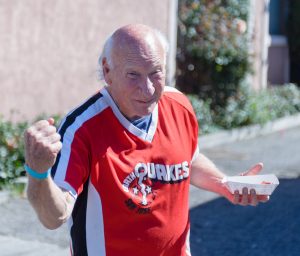 The Parade of Champions was started following WWII as a celebration of hometown life and a welcome home for veterans after the horrors of the Depression and the war years, so veterans are always recognized. This year's special honoree, 92-year-old Korean War veteran Ken Kitajima, was recognized by a special ceremony by the Sikh Boy and Girl Scout troupes.
The celebration began as a Columbus Day parade but was rechristened the Parade of Champions in the 1960s when it honored Santa Clara Swim Club's Olympic medalists.
The legendary Larry Marsalli — known as Mr. Santa Clara — was the Parade of Champions' founder and ran the Parade of Champions from 1945 to 1995, bringing together the diverse elements needed to make the event come off like clockwork year after year. When Marsalli could no longer do it, no one wanted to take on the formidable project and so it died.
In 2018, an ambitious group led by Ana Vargas-Smith, Karen Bondi Ardizzone and Patti Allmon took on what many thought was a hopeless undertaking — bringing back the Parade of Champions.
The Parade of Champions is a 501(c)(3) non-profit. The event is sponsored by local businesses, community groups, individuals and the City of Santa Clara. For a full list, visit www.scparadeofchampions.org.
Take a look back in history. The Los Trancos Woods Community Marching Band has posted photos of the 1972 Parade of Champions at http://www.ltwcmb.com/html/clara-1972.html.