"My acrylic painting of an astronaut is called 'Hang on Tight,'" says Myles Fenton, a former student at Mission College. "I put a twist here. The astronaut is floating in space and his arms are ripped off because he wants to go further. Since there is no sound in space, there is an exclamation mark next to his face."
Fenton is one of 22 artists participating in the Mission College Alumni Art Exhibition, running until May 23 at the school's Vargas Gallery inside the Gillmor Center.
On April 29, alumni of Mission College's art classes and degree programs contributed about 30 pieces of art in various mediums, including paintings, drawings, sculpture and digital media.
SPONSORED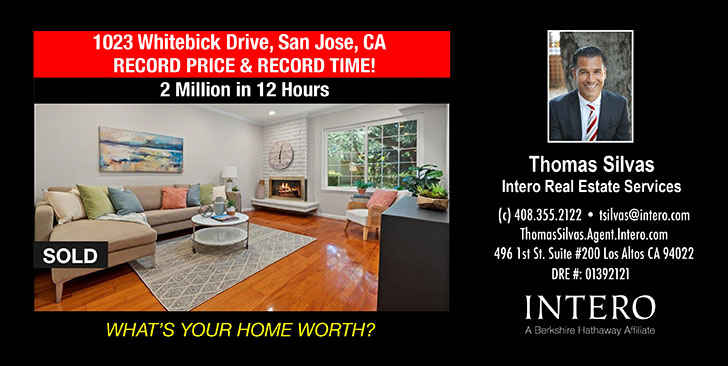 "We've never had an exhibit like this before, at least not in the 12 years I've been here," says Lynne Todaro, gallery director. "I'd run into our talented alumni at events and I see they're doing very good work. I want them to show others the things they've been able to achieve since graduation."
Patty Botello's "Residual Haunting" features a seated human-sized fish made from curtains sold at a second hand store. Her work is a reminder that she can create something positive from her negative experiences.
"This fish is supposed to be someone I once knew and it refers to a conversation between us when he sat in this chair," says Botello. "Even if he wasn't there, I'd still see him in this chair. I want people to see what I see about him. I make sculptures of people where I attach an animal to the person. This person was a fish. He was [fishy]. Inside the fish is cardboard, and it's all hollow inside."
Two of Xueling Zou's paintings are in the exhibit. One features two women sitting on a bench in conversation, and the other shows a woman playing guitar to a dog.
"This is called 'Girlfriends Tea Time;' I feel that living in Silicon Valley, everyone is so busy and it's hard to find time to have tea with your girlfriends," says Zou. "This other one is called Summer Serenade. It's nighttime here. It's about creating what you love, but only having time to do it at night."
Vanessa Callanta contributed a self-portrait where she is looking off in the distance with a reflective expression. This portrait is printed on the postcards advertising the art exhibition.
"My self-portrait was made from charcoal," Callanta says. "I was thinking in the portrait. I do a lot of daydreaming."