The Harris-Lass Museum House's popular June Tea–a fundraiser for the 1865 farm house museum at 1889 Market Street in Santa Clara–is an annual sell-out. The only way to ensure attendance is to become a member of the Historic Preservation Society of Santa Clara and buy tickets before they go on sale to the public.
The 2015 garden tea was held June 14, with about 100 women–and two brave men–in attendance. It featured a show of vintage hats from the private collection of hat hobbyist Trudi Wallick, who has been collecting hats since she was four. Wallick brought about two dozen favorites from her collection of some 800 women's, men's and children's hats dating from 1780.
Wallick modeled a beaver hat with silk and feathers and explained that the difference between a bonnet and a hat is that a bonnet has straps to tie under the chin. She gave the history of the hats on display and called on tea party guests to model them.
SPONSORED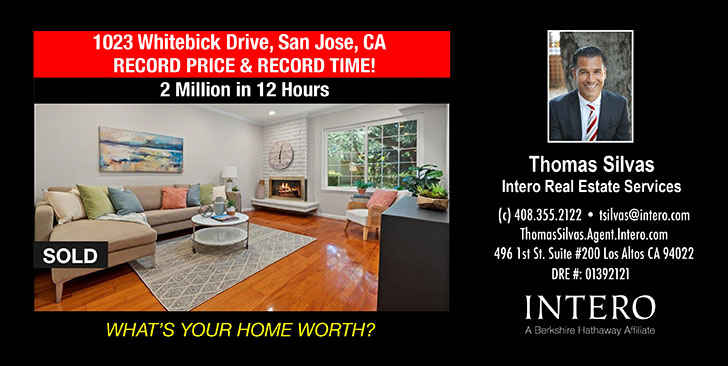 Among the hats were a black mourning hat with silk and ostrich feathers, a blue velvet Gibson Girl hat, one from 1870 – 1880 decorated with turkey feathers and glass beads, one from Paris made of felt and trimmed with feathers, men's wedding hats and a heavy WWII Italian bump hat worn for protection in tanks. At one time in history, there were so many genuine feather hats that they had to be outlawed to save the endangered birds.
As Wallick (www.hatshows.com) presented her hats, the tea attendees relaxed at round tables in the shade of a huge bay laurel tree. They finished finger sandwiches and scones with Devon cream and strawberry garnish, and enjoyed a dessert selection of local, fresh Blenheim apricots, petit fours and snickerdoodle cookies. They sipped apricot peach tea or orange cinnamon spice tea poured from decorative China tea pots.
"I'm pleased to see everyone having such a nice time out here in the beautiful Harris-Lass gardens," says Jeannie Mahan, Historic Preservation Society of Santa Clara (HPSSC) board member and tea party co-chair with Donna Marencia and Patty Mahan.
HPSSC treasurer Sue Kozdon says that the funds raised from the tea party, including proceeds from offering tickets to win gift baskets, would be used to continue garden renovations and other projects.
"This is delightful," says Judy Holcomb, attending the tea for a second year with a small group of friends from the Vintage Tea Society, all garbed in period dresses and their own hats.
"We're into preservation and look for opportunities like this to dress up. It's particularly fun to come to an event like this one, where you're helping to preserve the local history."