On Sept. 23, at the 2023 Sunnyvale Community Awards, Mayor Larry Klein awarded the Duo Duo Project the Mayor's Award of Excellence. Led by Sunnyvale resident Andrea Gung, the Duo Duo Project is a nonprofit organization that launched 10 years ago. "Duo duo" means "abundance" in Chinese.
"I have been impressed with the Duo Duo Project and their founder, Andrea Gung, who drives meaningful change around the world by advocating for the end of the dog meat trade and prioritizing that pets are family members," Klein said. "Simultaneously, the organization successfully builds community here in Sunnyvale for our numerous pet owners and their pets alike, by organizing our yearly Sunnyvale Halloween Pet Parade and similar pet and human friendly events."
"The goal of the organization is to end the cruel dog and cat meat trade around the world, starting from China," said Gung, honored to receive the award.
Gung explained the work she and her team have been doing in China.
"Mudanjiang, China, is a dog-eating city," Gung said. "Right now, we have about 80 dogs and 10 cats in our Mudanjiang shelter, located in the outskirts of the city. We've had many college students come to play with the cats and dogs at the shelter. People who want to adopt a pet can also come to this shelter. We decided that the message of the shelter preaches to the choir because people who like animals will come here to visit.
"So, around the beginning of 2019, we built a compassion center, also in Mudanjiang, to educate others who, unlike those who visit the shelter, might be indifferent about animals," Gung continued. "People who come by the compassion center will see the information about what we're doing to help cats and dogs and how they are valuable to humans. For example, people might learn that dogs can be guide dogs and rescue dogs, and that cats make cute pets."
The Duo Duo Project also conducts outreach programs aimed at Chinese youth.
"A lot of kids who grow up in China are warned to stay away from dogs and cats because they're dirty and carry disease," Gung said. "We bring out the dogs and cats from local shelters, including our shelter, and we groom and bathe the animals to make them pretty. We provide local children up close experiences with dogs and cats. We believe the children's hearts are warmed by this experience. We hope they will go home and learn not to eat dogs and cats after this."
Also, the Duo Duo Project works to find alternative employment options for those who work in the dog meat trade.
"Yulin is a famous city in China known for having a dog meat festival," Gung said. "We learned women in this city are good with sewing. So, we hired those women to sew tote bags for us. We've been trying to gather as many orders for tote bags as we can for the women in Yulin so they don't have to work in the dog meat trade."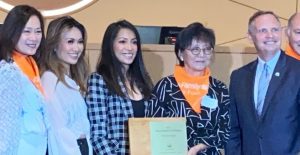 The Duo Duo Project also organizes the annual Sunnyvale Halloween Pet Parade in downtown Sunnyvale. Visit www.sunnyvalepetparade.com for more details.
SPONSORED