At the May 16 dress rehearsal for Wilcox High School's annual Fashion Show, about 100 Wilcox High School student designers and models, with a few outside family members, displayed meticulously designed fashions ranging from sleepwear to casual and party attire to formal gowns.
The actual fashion show, to be held at the Mission City Center for the Performing Arts, will be on Friday, May 19, at 7 p.m. Tickets will be sold at the door.
"Students from all three of my Fashion classes are presenting work at the May 19 fashion show," said Mindy Trisko, Fashion Design & Marketing Instructor at Wilcox. "The Fashion Levels 2 and 3 students have been working on a collection of clothing this year.
"In the fall, we had professionals from the fashion industry come and listen to my students talk about the collections they designed," continued Trisko. "My students presented to industry professionals, got some feedback and made some changes based on it. This semester is about pattern making and sewing the collections."
According to Trisko, her students voted on the show's theme, Midnight Dreams.
"The stage is set like an enchanted forest," Trisko said. "The collections have a lot of earthy tones, like greens, blues and browns. There are a couple of collections that are fairy-inspired with bold pastels. This year, we have a couple of collections with corsets. For the stage, we're getting logs, stars, the moon, flowers, ivy and vines as décor items."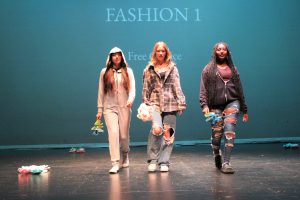 Lilith Llantada, 16, is one of the student designers showing her work at the show.
"I am presenting my line called 'Epiphany,' based on religious paintings, porcelain dolls and the dreams I've been having this year," Llantada said. "All these garments are based on Lolita fashion, which is a subculture based on Victorian clothing from the Victorian era. I put a little twist on it based on these religious paintings I've been seeing. I made skirts. I made headpieces. One of them is a pointed headpiece with chains on it. The other headpiece is a lace headdress with carnation flowers on it.
"In Ms. Trisko's class, I've been learning how to gather fabric, which is stitching the edge along the piece of fabric and gathering it, or bunching it together, after you sew it," Llantada continued. "This technique creates ruffles."
Vincent Elloso, 17, is another student designer. A graduating senior, he is headed to West Valley College in the fall where he hopes to get an associate degree in Fashion Design.
"I've made two garments for menswear this year," Elloso said. "One is a pair of pajama pants, made with two patterns, one on the left pant and one on the right pant. The second garment is a black coat made from fleece.
"Sewing-wise, I've learned a lot from Ms. Trisko, such as how to make stitches and set up the sewing machine," Elloso continued. "Non-sewing wise, I've learned a lot about patience because a lot of things can go wrong when you're sewing. When I'm frustrated, I ask for help from Ms. Trisko and we work to solve the problem together."