It was a busy day for young entrepreneurs at the third annual Santa Clara Children's Business Fair on Oct. 23 at Live Oak Park where 60 businesses were set up.
Ovee Dharwadkar, 12, displayed her key chains, accessories, and jewelry made from a 3D printer at Love3Dsigns. Aditya Shivakumar, 13, and Trisha Shivakumar, 12, advertised Magic Escape, a service offering the experience of an escape room at a client's home. Ellie Hu, 10, and Ashley Hu, 8, oversaw Wands and Brooms and sold homemade wands and Harry Potter-inspired merchandise, such as "magic potions."
Entrepreneurs described their businesses and shared reflections about their experience selling at the fair.
SPONSORED

Aanya Shah, 12, led Original Strokes, a business featuring her poems and art set on cards and bookmarks.
"I write poems and I've been doing art forever," Shah said. "My sister, Ariya, 7, is also interested in entrepreneurship. We found out about this fair and thought we could showcase my designs and poetry. It's hard work to sell things. You have to persevere."
Mateo Iaggi, 12, ran Mateo's Art, showing his painted work, which included images featuring the solar system and abstract colors.
"I have painted glass Coke bottles, little cereal boxes, skateboards and all different types of canvases," Iaggi said. "As long as you are good at what you do and you love what you do, you can go far."
Gauri Khandelwal, 15, offered a solution to dandruff through her business, Dandruff Solved with a spray made of natural ingredients, including apple cider vinegar.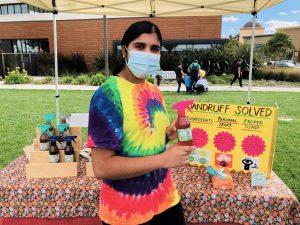 "I've learned that over time, when customers like your product, they'll come back," Khandelwal said.
"Previously, the judges would go around and judge each of the booths for five minutes. This is not happening anymore," said Mikhil Kiran, 13, who organized the fair with his father, Kiran Ganesh. "It put a lot of pressure on the kids running the businesses because they had to focus on impressing the judges during those five minutes that the judges were at their booth."
Instead of having the judges visiting the booths, this year, the fair had three new award categories, which requested that entrepreneurs design a marketing flyer, create a video commercial to be shared on the fair's Facebook page and fill out a post-event survey to share reflections.
"We will be publishing a free booklet with the post-fair reflections that would help future participants in this fair," Kiran said. "Details for the download will be on www.facebook.com/santaclaracbf or www.kidzrule.net when the booklet is ready. We want to focus more on long-term learning for the kids doing the businesses."
At the fair, Santa Clara Mayor Lisa Gillmor gave a speech and announced the winners and the cash prizes. Kiran and his father are grateful for the support from the City of Santa Clara, the Mayor and City Councilmember Kathy Watanabe.
"We get a grant from the City to help with the cost of the fair," Kiran said. "Ms. Kathy helped us get the grant. She is one of our biggest supporters for hosting this fair."
SPONSORED