By its very title, "In the Eyes of the Beholder" invites the viewer to interact and find personal meaning in the 68- X 74-inch abstract acrylic painting on canvas. It is part of Mission College alumna Hung-Tsu Chen's solo exhibit at Mission College's Vargas Gallery, Santa Clara, through March 26.
"I see murder in this painting–the way the red is falling on the painting–something from 'CSI,'" says San Jose resident Rinda Seymour, attending the opening reception February 10.
"Painting is a transformational process. After a personal tragedy, I started painting abstract. To come to grips with it, I had to paint abstract," explains Chen, who discovered through job counseling, in 2001, she had a talent for art. "I can paint anything I want in abstract. It's very freeing. I paint from my heart first and then my head."
SPONSORED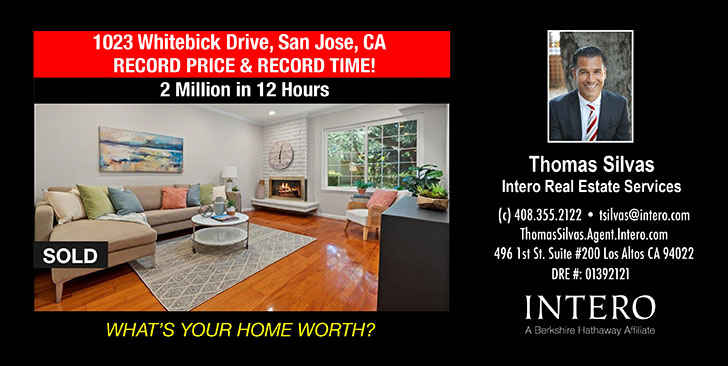 "Your work is beautiful," Seymour tells Chen.
Chen, who came to California from Taiwan when she was 14, has been doing abstract painting for about seven years, after previously doing figure painting. She explains her process.
"Sometimes I do a thumbnail sketch, but more often I just start painting. I usually limit my palette to no more than five colors. It keeps the message simple. It's not until I'm done with the painting that I realize what the message is to me," says Chen.
"If I'm frustrated, I release it through painting–all the emotions coming out of anger and frustration. After the painting, the exorcism is done."
Chen's exhibit, "A Humbling Odyssey," fills the entire gallery with seven, large-scale, abstract paintings that express a gamut of emotions from despair to hope.
"I'm very pleased to be exhibiting this wonderful work," says Vargas Gallery Director and Mission College art instructor Lynne Todaro, who invited Chen to show her work.
A Milpitas resident, Chen will receive a MFA Degree in pictorial (two dimensional) art from San Jose State University in May. She previously earned a BS Degree in computer science from SJSU and worked in technical positions.
Todaro has suggestions for viewing abstract art.
"Have an open mind and try not to make it be something. Let it evoke a particular meaning. Sometimes artists themselves don't even know why they're painting what they paint," says Todaro. "Does it make you feel or think something and want to keep looking?"
Art history instructor and art collector Helayna Thickpenny responds to "The Winter of My Discontent."
"This is an expression of abstract expressionism. It has an enveloping darkness, a sense of tragedy in the human experience–the universal drama, the dark things that might happen to any of us. But there's a little light in all the darkness, pointing to recovery," says Thickpenny. "This painting really struck me. Any person can come up to it and have a different experience."
Santa Clara resident Xueling Zou is drawn to "This Too, Shall Pass."
"I really like this–the spontaneous, natural feeling. I feel passion. Old/new, past/future–you can see these things," she says.
"Art gives me an outlet to express my innermost contemplations. It offers the freedom to express myself and grow as a result," says Chen. "With art I don't have to disclose too much. I can paint without disclosing intimate information. I love art."
View Chen's paintings and inquire about purchase on her website: www.hungtsuchen.com. For hours and information on the Vargas Gallery, located inside the Gillmor Center, visit www.missioncollege.edu/depts/art/vargas.
"Everyone's a creator in some way or other, and at a community college, you get to try out different ways you can be creative in a low-risk way, not costing you thousands of dollars to try out a class. At Mission College, we have a variety of classes so people can find out what they want to do," says Todaro.