Sunnyvale Department of Public Safety (DPS) officers have arrested the woman they think is responsible for triggering an hours-long Amber Alert across the Bay Area.
Officers arrested 29-year-old Luong Tammy Huynh around 8:30 p.m. in San Jose. She is in Santa Clara County Main Jail and is expected to face charges of kidnapping, child endangerment and vehicle theft.
According to DPS, around 3:51 a.m. on Sunday morning, officers were called to a home on North Mathilda Avenue near West Maude Avenue. A mother reported her car was stolen while she was unloading groceries. Her 2-year-old son was inside the car at the time.
An Amber Alert was immediately issued to find the 2008 Buick Enclave with paper plates and the young boy inside. DPS also issued alerts on social media.
By 8:54 a.m., officers identified Huynh as a person of interest. They released two surveillance photos of a woman believed to be Huynh who was in the area around the time of the theft and abduction. One photo showed the back of a woman's head near the vehicle. The other showed a woman believed to be Huynh walking through the complex.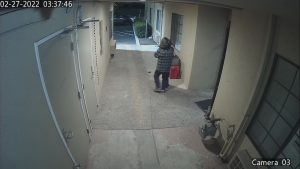 Neighboring agencies helped in the search including the San Jose Police Department, which launched its Air Support Unit. The FBI was also involved. It offered a $5,000 reward for the safe return of the boy.
Around 6:11 p.m. on Sunday, DPS reported that a Sunnyvale patrol officer found the young boy inside the car in a parking lot approximately four miles away from his home. The boy was taken to the hospital as a precautionary measure and later reunited with his mother.
DPS says that additional surveillance video from the parking lot where the car was found implicated Huynh. She was arrested when she returned to her home in San Jose that evening.