While the immediate cause of Santa Clara's current budget deficits — "structural deficit" — was the COVID-caused drop in hotel tax revenue, the fact that a drop in a single revenue stream could plunge the City into a now-chronic operating deficit— especially when the other two main revenue streams, property and sales tax, were growing — points to other underlying problems in the City's finances.
As long as the hotel tax was steady, it papered over bad policy decisions. In fact, the cumulative $39 million in hotel tax lost since 2019-20 is roughly the amount of the rolling deficit since 2020: $42 million.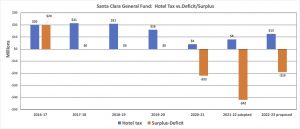 From 2017-18 through 2019-20, hotel tax appears to have papered over what would have been budget deficits, as there were no revenue surpluses during those years.
SPONSORED

The pandemic-caused erasure of Santa Clara's third most significant revenue source was something out of anyone's control. But Santa Clara's biggest cost driver isn't.
Santa Clara's biggest expense is payroll and employee benefits, as are those of any municipality. But Santa Clara's per capita employee cost exceeds those of most of its South Bay neighbors, including Sunnyvale, a comparably-sized city known for its quality of services and paying its employees well.
Unlike Sunnyvale, Santa Clara operates its own electric company (costs that Sunnyvale residents pay in their PG&E bills), a convention center and a stadium. Even taking these things into account, Santa Clara residents pay an extra "premium" for their City staff.
A conservative way to estimate this premium is to compare the difference between Santa Clara's and Sunnyvale's per capita personnel costs starting in 2016 — when the stadium was in full operation and the year Santa Clara hosted the Super Bowl —through 2021.
Using 2016's differential of $527 as a baseline to account for the difference in the two cities' payroll costs, Santa Clara's payroll grew at a faster rate than Sunnyvale's; with the difference above that baseline growing by $46 in 2017, $96 in 2018, $184 in 2019 and then slightly declining to $151 in 2020 and $122 in 2021.

This escalation corresponds with the arrival of Deanna Santana as the highest-paid city manager in California and a host of her former colleagues at equally elevated salaries.
The compensation 'premium' totaled $599 per resident between from 2017 through 2021, on average $15.5 million a year, and $77 million since 2017.
That's money that could have kept the City's budget balanced, expanded City amenities and provided increased staffing for important new programs like the police department's Crisis Intervention Team. That money could open libraries back up, fund homelessness programs, marketing that would bring events and visitors to Santa Clara, build the Magical Bridge's accessible park without outside fundraising and foster arts in the City. And, of course, that money could be a down payment on a new International Swim Center.
Explaining Our Per Capita Staff Costs Baseline: Santa Clara's general fund is reimbursed by the Stadium Authority for stadium work. So even though the stadium contributes to the cost-per-resident, the cost is cancelled out. We chose the Super Bowl year, 2016, as a baseline because that year would have had a high level of stadium support costs.
Sources: TransparentCalifornia.com, PublicPay.ca.gov, SantaClaraca.gov, Sunnyvale.ca.gov.