Related Companies is denying the content of Santa Clara Mayor Lisa Gillmor's letter to California Governor Gavin Newsom.
A Related spokesperson wrote to The Weekly demanding a retraction of a story that pointed out that Gillmor petitioned the Governor asking him to do a favor for a company that has donated to her political campaigns in the past and recently donated to her current campaign.
"The story actively misleads readers into believing that Related has engaged in some kind of quid pro quo," said a spokesperson for Related. "There is no basis whatsoever for the article's egregious falsehoods that the Mayor did any favors for Related."
SPONSORED

When asked directly if Related was aware of Mayor Gillmor's letter to the Governor prior to committing $100,000 to Gillmor's re-election campaign, the Related spokesperson said the company would not be doing any interviews on the issue and reiterated the contents of the letter.
"The article's assertions that a letter Mayor Gillmor wrote more than seven months ago is somehow tied to an independent expenditure committee is a complete fabrication," said the Related spokesperson.
Mayor Gillmor came under scrutiny earlier this month when a letter on City stationery with the names of each of the members of the City Council and addressed to Governor Newsom came to light. Several members of the City Council denied knowing anything about the letter until it was brought to their attention by the media.
The letter referenced a 2020 claim filed by the Union of Painters and Allied Trades.
In the letter, Gillmor told the governor, "…nothing in the rent structure suggests this project is a public work that would be subject to California's Prevailing Wage Law…As the former Mayor of San Francisco, you understand first-hand how vital partnerships with the private sector are in creating opportunities that otherwise would never come to fruition."
In its statement in response to the article, a Related spokesperson said, "We are not seeking exemptions from prevailing wage laws and have never sought preferential treatment. Related Santa Clara will utilize union labor and create over 10,000 union jobs, equating to over $1 billion in union wages over the course of construction. In Phase 1 alone, more than $300 million in contracts have been awarded and 100 percent are union contractors."
While Related may deny the contents of the letter, it cannot deny that someone in the company knew about the request to Governor Newsom prior to donating $100,000 to Mayor Gillmor's campaign. In documents obtained by The Weekly, the March 4, 2022 letter sent via email to Governor Newsom's office included a cc to Related executive Steve Eimers.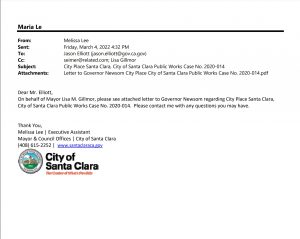 SPONSORED