The Santa Clara Police Officers Association (POA) and its PAC appear to be violating — or at the very least skirting — laws barring unions from using member dues for political campaigns as well as FPPC disclosure regulations. The police union and PAC declined to answer The Weekly's questions about its political activities.
An "Informational" Website With a Campaign Message
On Oct. 7, a proxy entity purchased the URL Grandjuryreport.com [WHOIS grand jury report] — four days before the report was published on the county website.
On Oct. 11, the website was up and running, describing itself as "public service information brought to you by the Santa Clara police Officers Association." The website leveraged the controversial grand jury report, Unsportsmanlike Conduct on the Santa Clara City Council to attack Mayor Lisa Gillmor's political opponents.
SPONSORED

Unions must separate representation costs from political activities, per a 1988 Supreme Court decision. Yet, the union appears to be using regular dues for politics.
Adding to its political usefulness, the webpage went live just in time to be promoted during a noon rally at City Hall by a self-described recall attempt that has yet to form a registered political committee. [] A week later, the POA was running Facebook ads promoting the site.
Featuring random pages from the grand jury report with inflammatory phrases highlighted in yellow, the page uses the union PAC's familiar style of showing its targets — Council Members Anthony Becker, Raj Chahal, Karen Hardy, Suds Jain and Kevin Park in dark shadow. The union has always opposed minority candidates and campaigned for ballot measures to overturn the by-district election system that elected Santa Clara's first minority council members.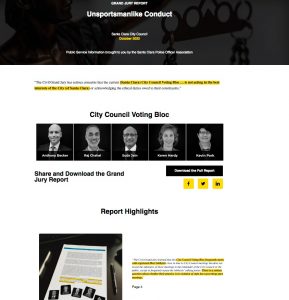 The day the website went live, Santa Clara's elected police chief, Pat Nikolai, sent a public email to District Attorney Jeff Rosen demanding criminal investigations of the five council members named by the grand jury. Nikolai did this despite the grand jury making no criminal allegations.
Developer-Financed Mailers Arrive Before They're Reported
A week later, Santa Clarans received political mailers that looked just like the website, with the addition of yellow crime scene tape and the logo of the County Civil Grand Jury on the upper left corner. The mailers were sent by the union PAC and paid for by CSC Development, owner of Tuscany apartments in Santa Clara.
Again, all the white, Gillmor-endorsed candidates are shown in bright color, while their opponents are in dark shadows. The mailer has no sending address (an FPPC violation) and doesn't appear to be printed by a union shop.
The PAC reported the expenditure on Oct. 21 — after the mailers arrived in mailboxes on Oct. 18 — despite FPPC requirements to report campaign expenditures within 24 hours of making them. The PAC hasn't filed a financial report (Form 460) since July 30. While the report isn't required quarterly, most political groups make a practice of it.
Ties That Bind: Gillmor and the Police Union
The mailers' principal message is that Santa Clara must keep its elected police chief; falsely asserting that Gillmor's opponents "support a process to change the charter and eliminate your right to vote." The charter cannot be changed without voter approval.
Nikolai is the former, longtime police union president and a longtime Gillmor ally — she pushed the then-police lieutenant's candidacy for police chief in 2016. That election also featured an October surprise grand jury report and a grand jury foreman who was a services vendor to Tino Silva — a Gillmor ally running for council that year.
In 2016, Gillmor and Nikolai accused police officials of instructing employees not to report stadium hours, although that grand jury found no evidence of it. That year, the police union threatened "not to work" at Levi's Stadium over Colin Kaepernick taking a knee.
In 2006, then-union president Nikolai and self-described private businesswoman Lisa Gillmor undersigned a ballot measure favoring binding arbitration for the public safety unions. In his 2016 campaign, Nikolai promised to bring the issue back.
Binding arbitration would give two unions an additional avenue for contract disputes besides negotiation and wasn't subject to appeal.
"Binding arbitration will remove local control of our city's tax dollars; it will provide a leveraged bargaining position for police and fire unions in all wage and benefit negotiations…it's the community that could be on life-support if this measure passes," former police chief Charlie Arolla wrote to The Weekly in Oct. 2006.
Another critic of the ballot measure, former Council Member Jamie McLeod, wrote in a Weekly editorial that the Measure "will undermine the ability of the elected police chief and the city council to fully regulate how force is used."
That same year, the City of Gilroy concluded an 18-month arbitration costing the city $260,000. The arbitrator ruled in favor of the firefighters union, which was asking for a 10% raise, as opposed to the 4.5% Gilroy offered. Gilroy had to shift funds in its budget to cover the additional cost.
SPONSORED