Smoke still lingered in the air Thursday morning on the 100 block of Saratoga Ave. in Santa Clara after a July 14 fire destroyed a dental office building at 160 Saratoga. The blaze broke out around 9:30 p.m. Wednesday.
Santa Clara Fire Dept. fire watch teams remain on the site to monitor hot spots and evaluate the still-smoldering building's stability.
The cause was electrical, according to Santa Clara Fire Sept. Battalion Chief Drew Miller. "A cleaning crew working on the first floor of the building discovered a fire in an electrical outlet," Miller said. "When we arrived minutes later the second floor was on fire." The roof caught fire soon after.
SPONSORED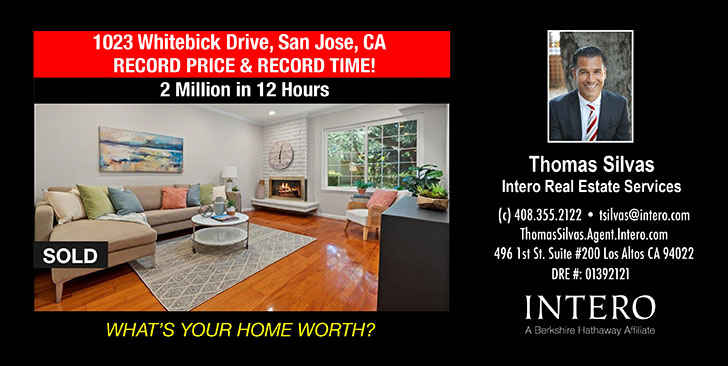 The building sits behind a townhouse complex and, with only a wooden fence and a row of trees facing the property line at Stella Dr., the conflagration could have easily threatened houses.
"We prioritized life and residents' safety," Miller said. "We evacuated Stella and advised other streets to shelter in place and turn off HVAC so the smoke wouldn't get drawn into their houses. We were very defensive [fighting the fire] making sure it didn't spread."
Elina, a college junior, was talking on the phone with a friend when the fire broke out. "My dad was calling me and told me [across] from our house the shed was on fire. He heard crashing. It caught fire fast."
Nick, a resident further away from the fire said he found out about the fire first from his neighbors. "It's scary. Half an hour ago I saw my neighbors' garage doors open and came down to talk to them. They [FD] put it out quickly."
"We packed our bags," said Abki "We were ready to leave." His wife Gangotri added, "We're very glad the fire department came so fast."
Santa Clara FD's new Fire Support K-9 Laddie was also on the job with his handler Jill Levy. "We support firefighters and police officers and anyone else who needs a hug," she said.
The four-year-old Sheltie was trained by the Santa Clara County Alliance of Therapy Dogs and works with disaster victims and people who have been displaced as well as in more familiar settings like hospitals. "We're still defining his role," said Levy.
The fire department will keep a watch crew on the site while the fire is investigated.