Outside the Franck House on Washington Street hung a sign: "Watch your husbands closely. There are cougars inside." Such a message was appropriate for the zoo theme in one of the participating homes in the 35th annual Santa Clara Historic Home Tour, which occurred on December 6 and 7. The Franck House was one of the four homes, along with the local fire museum, open for tours during this annual event which sold over 700 tickets.
"The purpose of having this historic home tour is to show others that you can still value old homes," says Mary Hanel, local history librarian of the Santa Clara City Library. "Beautiful old historic homes can still be adapted to modern uses."
The Franck House, built in 1905, exhibited thoughtful decorations by Lou Faria, the current owner, and his partner, Bob Blake, both of whom have backgrounds in art. Several nativity scenes were in the living room, one of which is a family heirloom from Europe that once appeared on PBS's Antiques Roadshow. In the same space was an indoor jungle, with lions, tigers, and other stuffed animals decorating a tall golden tree. The dining room was converted to a bird aviary, with winged creatures hanging on a tree of branches. The library was the scene for some monkey business where stuffed red monkeys hung from plastic palm trees lit up with lights. In a bathroom, the bathtub was converted to an ocean of artificial arctic ice with little penguins inside. The garage flaunted a Rolls Royce with a mannequin inside, an extensive car collection, and a holiday tree with toy car ornaments.
SPONSORED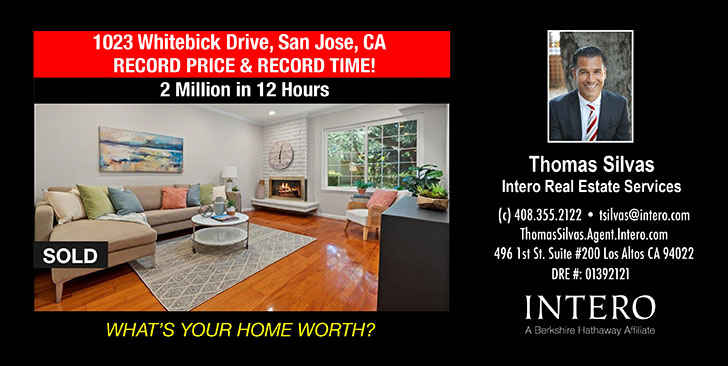 Some Santa Clara history was shared at the foot of the stairs, where a reindeer stable was set up.
"This reindeer came from the original carousel at Great America when it first opened; that's what we were told," says Faria, pointing to a big reindeer. "My nephew's wife's uncle, Art Perryman, worked at Great America when it was Marriott's Great America. He was a wood worker and carpenter for Marriott and he brought this to us."
Hanel also had a fund of information on two other participating locations in this year's tour.
"The Hanna and Harmon House on Main Street was a Craftsman Bungalow, built in 1923, and then it was extensively remodeled in 2000," Hanel says. "In 1923, it was a two bedroom, one bath home. After remodeling, it's now a four bedroom home with two and a half baths. The house overlooks City Plaza Park where Mission Library is."
"I enjoyed going to the fire museum on Walsh Street as well," Hanel continues. "The fire chief was there. The history of Santa Clara's fire department goes back to 1855. There was a 1913 fire engine on display. They had photographs of the old volunteer fire companies."
Proceeds of this year's Santa Clara Historic Home Tour will benefit the Harris-Lass House Museum and other local non-profit organizations. For updates on next year's home tour, visit sc-hometour.com or www.harrislass.org.
SPONSORED