For the first time in nearly 25 years, the Wilcox Chargers are champions of the CCS. Saturday night's 54-20 thrashing of the Menlo School Knights delivered Wilcox their first CCS title since 1997. The Chargers had been to the CCS championship thrice in the last 13 years, losing heartbreakers in 2008, 2009 and 2018. The latter of those teams though was fortunate enough to continue playing and won both their NorCal State and California State Championship games.
More of an underdog squad this year with an extremely young offensive line, winning the Division II CCS Championship is quite the accomplishment. Wilcox returned just one starter from last season's offensive line and two key starters are only sophomores, left tackle Justin Hylkema and center Angelo De Los Santos.
"From where they were at the beginning [of the season] to where they are now, is a testament to how hard they have worked," remarked Chargers Head Coach Paul Rosa on his offensive line, a group that paved the way for star tailback Luther Glenn to go over 225 yards and score a whopping five touchdowns against the Knights. "As a unit they have really grown together which has been really cool to watch."
The Chargers added three more touchdowns, one from wide receiver Charlie Carlson on a short pass from quarterback Armand Johnson, and two more on the ground by tailback Andrew Palacios.
"We had a big lead, but it didn't really click until the last couple minutes of the game when it was like, we're really about to win this thing," chuckled Palacios when asked at what point he sensed the win was secure. "It was a pretty great feeling."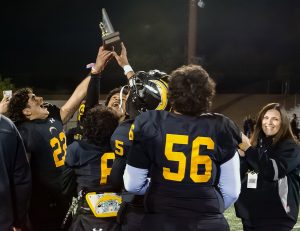 Early in the game, it didn't seem like there would be a big lead either way as each team scored on their opening possession. Menlo got the ball first and a methodical drive led by the legs of record-breaking quarterback Sergio Beltran put the Knights up 6-0. Beltran, a true dual-threat quarterback, scrambled for big gains ala Russell Wilson throughout the first drive. During the season, the Knights quarterback set a CCS record with 44 touchdown passes.
The Chargers responded immediately as Glenn took their first play from scrimmage 61 yards for a touchdown and then the Wilcox defense bounced back impressively on their next two drives. They managed to contain Beltran in the pocket, forcing a turnover on downs and a punt.
"That quarterback was really good. He could pass, he could run, he broke some records. We worked really hard to try to keep him in the pocket and not let him get loose," remarked Wilcox Defensive Line Coach Emmit Palacios. "I think [on] the first drive our players just had to get used to his speed and once we got used to his speed, we definitely made our adjustments, forcing him back into the flow of our linebackers and other d-linemen."
Senior defensive end Aliejah Diaz led the Wilcox defense with three sacks on the night. Ty Jeter, Pace Nelson, Maulidi Saleh and Jeramiah Lewis also stood out defensively for the Chargers who will now host Manteca on Saturday for their NorCal State Championship game.
SPONSORED