Big Fish. A celebrated 1998 novel by Daniel Wallace. A 2003 fantasy comedy-drama film. And now, a poignant 2013 musical presented—with an 11-piece orchestra—by Sunnyvale Community Players Oct. 23 – Nov. 7 at its 200-seat theater at 550 E. Remington Dr., Sunnyvale.
"Everything is special about this show," said Big Fish director Erica Wyman Abrahamson, a Sunnyvale resident. "The story is special, unlike any other musical. It's a different kind of love story altogether, between father and son. The actors are a dream."
Fish tales and tall tales merge with reality in this moving production about the relationship of traveling salesman Edward Bloom from Alabama and his son, Will Bloom. Soon to become a father himself, Will tries to uncover the truth about his father before it is too late.
SPONSORED

"After almost 30 years, I still don't know the man," said Will (Derek DeMarco), comparing his father to a baffling hurricane or an iceberg that one can see only the top ten percent of.
Will calculates that his father has entertained him over his lifetime with "36 basic tales with lots of variations."
Several of these tales come to life on stage—a fortune-telling witch; an emerald mermaid giving Edward his first kiss; a stilted giant cowering in a cave; and a traveling circus where Edward first glimpses Sandra (Mary Melnick), the red-headed love of his life.
"Be the hero of your story if you can!" sings Edward (Michael Paul Hirsch) to his son. "Be the champion in the fight, not just the man."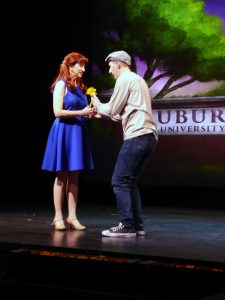 The Preview Friday audience was quickly caught up in the story, laughing freely and applauding loudly.
"I'm really enjoying the show," said Sunnyvale resident Joy Wallack at intermission. "It's a heart-warming story. The performers are great."
"All the people who put the show together have worked so hard," continued Wallack.
Wallack should know. Her husband, Peter Wallack, is a co-producer and the orchestra drummer.
Sunnyvale resident Judi Pogue praised the costumes—with quick changes—by Jo-Ann Birdsall and the choreography by Christine Baker in her debut as a choreographer.
"These were complicated dances. The choreographer has a great future," said Pogue. "Watch for her on Broadway!"
Luckily, Silicon Valley residents don't have to head for Broadway and pay big prices to experience great theater.
Co-producer and artistic director Kevin Surace points out that in its 52 years, the focus of Sunnyvale Community Players has always been great musicals. It began in 1969 as a children's musical theater, co-founded by the late Margaret Wozniak, mother of Apple co-founder Steve Wozniak.
"All those years I thought you were trying to impress me, you were just trying to inspire me," Will tells his dying father at the end of Big Fish.
"Remember me as something bigger than I was," sings Edward Bloom, a man ultimately bigger than a big fish in a little pond to his family and friends.
Theater attendees must show ID and proof of COVID vaccination and wear a mask. Online streaming options are also available.
"Despite COVID, art is back, and we appreciate and need the support and kindness of the community," said show director Abrahamson.
SPONSORED