The Santa Clara Parade of Champions is almost here and we now know who will be the parade's Grand Marshal. The honor goes to two-time Olympic gold medalist and Santa Clara High School grad Donna de Varona.
This is the second time de Varona has served as Grand Marshal of the Parade of Champions. Her first time was in 1995, the last year of the parade before its rebirth in 2019.
In honor of de Varona's swimming roots, the Santa Clara Swim Club will walk behind her in the parade. De Varona was a member of the swim club and trained under Coach George Haines.
She went on to compete for Team USA at the Rome Olympics in 1960. In 1964, at the age of 17, she won two gold medals at the Tokyo Olympics. De Varona retired from competitive swimming after the games and became an advocate for women in sports, fitness and education. She served on the U.S. Department of State Council on "Empowering Women Through Sport."
She also worked as a journalist for major television networks like ABC, NBC and CBS. Throughout her career, she has covered 18 Olympic games.
Other Grand Marshals include Snoopy, Charlie Brown and Lucy as well as the crowd favorite and Bay Area icon Krazy George.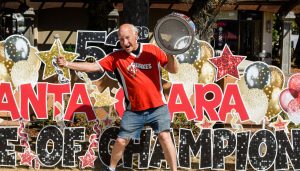 Artistic Swim, formerly known as Santa Clara Aquamaids, Head Coach Chris Carver will be an honored guest. So will Rudy Vera, the Umpire Chief for Santa Clara PAL (SCPAL). Vera has served SCPAL for 50 years and his wife Rita has worked for PAL for 35 years. The pair created the Rudy and Vera Softball Tournament because of their love of the sport.
This year's Parade of Champions is expected to include 10 marching bands, 5 floats and over 2,000 participants.
It will take place on Oct. 7 at 11 a.m. The parade travels down Monroe Street with the main stage in front of the Franklin Square Mall.
Arrive early and enjoy a new event, the Breakfast of Champions, served at the American Legion Post #419 at 958 Homestead Road. For $12, attendees will enjoy a buffet menu that includes French toast, pancakes, bacon, sausage, scrambled eggs, orange juice, coffee, tea and a cocktail fruit cup.
Money raised from the event will go to the charities supported by the Parade of Champions including local veterans.
Please use the Parade of Champions website at www.scparadeofchampions.org to help plan your day at the parade.
SPONSORED