Friday, Feb. 17 marked the opening round of the Division I CCS Girls Basketball Tournament. The Santa Clara Bruins hosted the team's opening round game as the No. 10 seed against the unseeded Piedmont Hills.
A 16-team field features the top-four seeds each earning two byes, while the five-through-nine seeds each earned one bye. As a 10 seed, Santa Clara faces the tall task of winning the tournament by winning five playoff games.
Santa Clara jump started the arduous journey with an impressive win on Friday against the Pirates. Sophomore center Mia Talalele shined from her usual spot in the paint, but most impressively she showed expanded range in this opening round game.
Typically, the Bruins' offense from the outside is led by starting guards Nina Llamas and Vanessa Calvillo. In the opening round though, Talalele was dominant all over the court. She nailed her free throws and dropped in multiple buckets from just inside the arc.
"Obviously we shoot every day at practice, and we tell them to take game-like shots," chimed Bruins Head Coach Deedee Kiyota when asked about Talalele improving her outside shooting. "She starts at the free throw line and takes those shots. She knows that in order to move onto the next level you're going to have to develop your outside game and dribbling as well. She knows what she has to do and is one of those kids that always works and wants to be in the gym."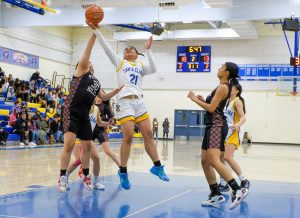 "That's something I really wanted to work on this year," confirmed Talalele on increasing her shooting range. "I feel like I have more confidence in myself now to be shooting like that. When their big girl came in, I had to shoot outside more and she left me open so I just took my shot and they all seemed to go in. I was like, 'Why is she giving me so much space?' If they leave me open, I'm going to shoot that."
Aside from Talalele's impressive shooting night Friday, the Bruins' team defense also shined by clamping down on the Pirates' go-to scorer. At one point the score was 16-13 Bruins early in the second quarter and one single player for Piedmont Hills had all 13 points.
Santa Clara adjusted and shut her down, pulling away and putting the game away at halftime with a 29-16 advantage.
The eventual 45-31 victory over the Pirates put the Bruins up against No. 7 seed Homestead the very next night. Despite having to play two nights in a row against a higher-seeded and rested opponent, the Bruins nearly doubled up the point total on the Mustangs.
Santa Clara cruised to a 61-32 victory, propelling them to the third round against No. 2 seeded Evergreen Valley on Tuesday.
Tuesday would be the end of the line for the Bruins. Santa Clara's Cinderella run came to an end with a 74-32 loss. While Calvillo will graduate in June, the Bruins will bring back the remaining four starters. Along with Llamas and Talalele, Charm Azul and Kendall Yee will also return for what should be another strong season in 2023-24.
SPONSORED