Thanks to the quick work of the Santa Clara Fire Department (SCFD), Leichi Japanese Restaurant on Saratoga Avenue was open for dinner on Feb. 22, just hours after ominous smoke started rising from the restaurant earlier that afternoon. The restaurant is in a retail strip mall that includes a supermarket, drug store, a tutoring center and several restaurants, and a fire could have had disastrous consequences.
Within minutes, Santa Clara firefighters were on the scene at Leichi Japanese Restaurant, thanks to Fire Station No. 4, just half a block away on Pruneridge Avenue.
"We got a report of smoke coming from the restaurant," said SCFD Fire Capt. Mike Herscovitch. "When we arrived, we saw the smoke was coming from the roof. There was no one inside, so we had to break in. Something had been left [cooking] on the stove, but fortunately, it hadn't started a fire."
SPONSORED

Firefighters took the pot off the stove and filled it with water to cool it down.
The smoke turned out to be coming from the stove vent, he explained. It hadn't set off the fire alarm.
"There was no damage, except the broken front door," said Herscovitch.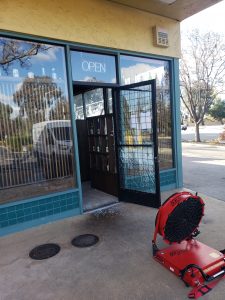 "Pot on stove" incidents aren't uncommon, reports Herscovitch.
"Things like this happen when people are distracted," he said. "An urgent phone call, another kind of interruption. Luckily for Santa Clara, we have a lot of fire stations, so we get to houses so quickly, before it turns into a house fire."
That's good to know, but it's even better to make sure the stove is turned off before you leave the house.
Santa Clara Fire Department provides a variety of community programs including home safety inspections and a database of residents with special medical or other needs. To find the location of your closest Santa Clara fire station, visit santaclaraca.gov.
Older Posts:
Jenn Panko: Santa Clara's First Female Fire Batallion Chief
Elks Lodge, Wheels and Deals Fires