If you described an investigation where the person works with the investigator and makes decisions about future engagements with the investigator, most people would call it a conflict of interest.
But that's exactly what's happening at Santa Clara City Hall.
The same law firm that worked with Santa Clara City Attorney Brian Doyle for two years litigating a 2018 pension dispute, Liebert Cassidy Whitmore and its attorney Morin Jacob, is also investigating Doyle's professional conduct. It's no secret that Liebert Cassidy Whitmore is conducting the investigation: The City refers information requests about it to Jacob.
Council Member Kathy Watanabe made the Doyle investigation public when she announced it at the April 12 Council meeting — despite laws forbidding public disclosure of confidential personnel information. She made the "just asking" announcement to postpone Doyle's performance review on the grounds that Council couldn't conduct the review while he was being investigated, although the review went forward months later.
The investigation began in early 2020, judging from a February 2020 San José Inside records request concerning employee complaints against Doyle.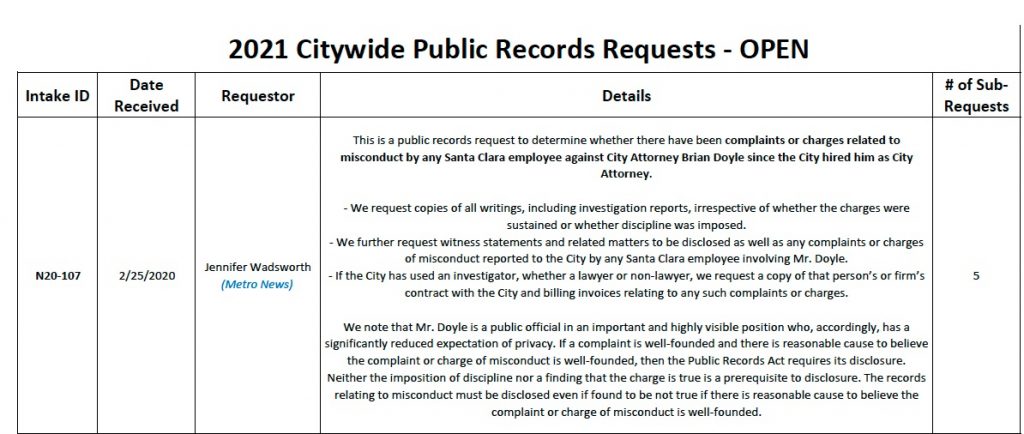 The Weekly subsequently requested information about the complaints and was told by Jacob that such information was exempt from public records laws. Recently San José Spotlight asked for the same records and got the same answer. The Weekly was told there have been subsequent employee complaints, but was unable to verify that information.
Liebert Cassidy Whitmore specializes in labor law for local governments. In 2019 a former Humboldt County Counsel sued the firm and other county officials, alleging he was pushed out when he brought to light inflated billings by the firm, according to the Spotlight story.
Santa Clara first hired the firm in 2014 for representation in a wrongful termination case, and Jacob was the attorney that handled the case. The firm doesn't appear again in City records until the pension claim in 2018, which was when Doyle decided that the City should conceal all its contracts and business transactions with outside lawyers.
Although there is no public record of a contract amendment since 2015, in December 2020 Santa Clara paid the firm $2,776, followed by $6,475 in March 2021, according to City records. Since then, the City has concealed payments to law firms so there's no way to know how much the City has paid for this or any other investigation.
Conflict of Interest?
"Conflicts of interest are the most complicated area in legal ethics," one attorney told the Weekly on background because he wasn't authorized to speak the press regarding this issue.
The law firm's 2014 agreement with the City states that Liebert Cassidy Whitmore "shall make a good faith effort to identify and shall apprise City of those possible conflicts of interest which could affect Firm's duties to City or to the City Attorney under the California Rules of Professional Responsibility."
Attorneys must disclose potential conflicts of interest specifically to clients, the California Supreme Court ruled in 2019. The Weekly has requested a copy of the current contract with the firm and any conflict of interest waivers the City has agreed to, but hasn't received any documents at this time.
"There's nothing legally improper, but it certainly doesn't look good," said well-known trial attorney James McManis of McManis Faulkner. "You now have someone with a relationship [with Doyle] investigating him.
"Santa Clara would have been better served," McManis continued, "if they had hired an attorney with no connection to the City and who didn't know any of the people involved," McManis said. Hiring a firm with years of experience working with Doyle to investigate him "is not a very smart thing."
A special City Council closed session meeting is scheduled Wednesday, Sept. 1 at 5:30 p.m. concerning termination of an at-will employee. Although the meeting description doesn't say anything further, Mayor Lisa Gillmor leaked to The San Francisco Chronicle that she believes its purpose is to fire Doyle. The meeting is available on the City website, Zoom, Facebook and YouTube.
SPONSORED