For Alicia Casas, the owner and head of Jaguar Baker, her company was born out of necessity.
"I was initially inspired to offer vegan treats in the South Bay after living a plant-based lifestyle for four years, in which I mostly went without one of my favorite things to eat – desserts," Casas recalled.
"Transitioning from vegetarian to vegan in 2011 was a challenge for me because of the lack of plant-based desserts available," explained Casas.
SPONSORED

The lack of vegan dessert bakeries in the area – combined with a love of baking – inspired Casas to start the Santa Clara-based Jaguar Baker.
"I enrolled in a baking class at the Natural Gourmet Institute in New York City called the Vegan Baking Boot Camp," remembered Casas. "The experience was amazing, and I thought that baking for the community was something I could actually pursue.
"I was especially optimistic about opening a vegan baking business because there were no such establishments in the South Bay," continued Casas. "We, vegan baked goods enthusiasts, had to travel to the East Bay to indulge in plant-based treats.
Casas, with the help of her sister, founded Jaguar Baker in 2017.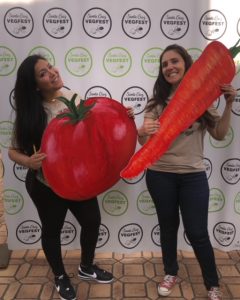 "The South Bay is my home. At the time Jaguar Baker was founded there were no vegan dessert establishments," said Casas about her decision to open in Santa Clara. "The vegan community here will definitely travel for tasty food, but having vegan desserts in the South Bay was very exciting for everyone.
"Jaguar Baker also has a special niche of vegan baked goods – we offer vegan Mexican pan dulce," continued Casas. "At the time of our opening, the only other place one could have vegan pan dulce was in Los Angeles. Thus, we've had customers that travel from around the Bay to purchase our conchas, cuernitos, cortadillos and other pan dulce varieties.
"These days there are a few more Bay Area bakeries that offer vegan pan dulce, which is a win for the local plant-based community!" said Casas.
Every Sunday, Jaguar Baker goes to its "home base," the Japantown Farmer's Market.
"In 2017, we started selling to the public at the San José Japantown Farmer's Market. We also took special orders and participated in pop-ups and festivals, but the Japantown Market was our home base," said Casas.
While the pandemic closed the Japantown Farmer's Market in 2020 and Casas went to a pick up model to adapt, she always held a special place in her heart for the place she started.
"We loved the strong sense of community at the Japantown Market so much that we did not pursue other farmer's markets when they reopened," said Casas. "When the Japantown Market reopened in 2022, we were not able to rejoin due to Jaguar Baker being temporarily closed, so now that we are up and running again, we can't wait to get back to our vending roots."
For Casas, veganism's importance lies not only in a present responsibility towards the planet but in an awareness of past wrongs to be undone.
"I truly believe in the vegan lifestyle," said Casas. "For me, the plant-based lifestyle embodies many forms of consciousness: peace, love, health and justice for animal relatives, human relatives, and Mama Earth.
"Furthermore, it is our individual opportunity to right so many of the systemic wrongs created by colonialism and the colonial mentality," she said.
"We are chefs and bakers that have full-time jobs, but love baking plant-based treats for the community," said Casas. "So here we are now, dedicating two weekends a month to share vegan pan dulce and treats at the San José Japantown Farmer's Market."
Related Posts:
Ginger Lab: Quench Your Thirst This Summer with Ginger Beer
Charlotte Truffles: Local Chocolatier Connects Diverse Community with Craft