Santa Clara Mayor Lisa Gillmor has some explaining to do about her Public Property Advisors (PPA) business, judging from recent headlines in San José Inside and San José Spotlight. PPA is part of Gillmor Real Estate LLC.
On Aug. 12, Inside turned its high beams on whether Gillmor has properly reported the business interest on her statement of financial interests — Form 700, required for all public officials. 
Three days later, San José Spotlight reported that the Santa Clara Teacher Housing Foundation, which contracts with Gillmor's company for property management, is "skirting" prevailing wage laws for work at Santa Clara Unified's Casa Del Maestro apartment complex. 
SPONSORED

Gillmor has repeatedly accused Levi's Stadium subcontractors of wage theft as a cudgel in her war on the 49ers.
Reporting Failure or Prevailing Wage Failure?
By California law, any work project over $1,000 by public agencies — including Casa Del Maestro, which is owned by Santa Clara Unified School District (SCUSD) — must pay prevailing wage as determined by the Dept. of Industrial Relations (DIR) based on the type of work and location. These projects are reported to the DIR. 
The housing foundation spent more than $200,000 on repairs and services on the complex in 2021, according to the organization's 2021 financial statement. Yet, the only foundation project reported to DIR was a 2016 painting project for $225,000. 
There are only two possible explanations. Either the teacher housing foundation and its property manager aren't complying with state reporting laws, or they aren't complying with state prevailing wage laws and district policy. 
Casa Del Maestro's lack of prevailing wage reporting contrasts dramatically with other Santa Clara Unified reporting. For example, the district reported over 40 projects at Scott Lane School alone since 2016.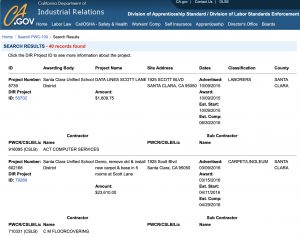 Gillmor told Spotlight that PPA is just the property manager and the foundation pays vendors. However, one of the jobs of a property manager is getting bids and awarding contracts, so Gillmor's hands-off explanation is hard to understand. Gillmor's husband, Demetri Cacoyannis, is the property manager and shares Gillmor Real Estate's address.
Gillmor's company has been the property manager for Casa Del Maestro since it opened in 2001. Up until 2018, that contract was apparently renewed automatically and there appear to be no records of competitive bidding for the management contract. 
In 2018, the foundation did issue a Request for Proposal (RFP) for the property management when PPA was getting paid $88,000 for the work. The foundation has continued to renew its contract with the company but is currently only paying $72,000. Also, in 2018, the foundation's board began filing Form 700s. 
Gillmor is a favorite with the South Bay Labor Council. She has been repeatedly endorsed by the labor group and is courting their endorsement this year. 
When asked by Spotlight about the question of possible prevailing wage violations at Casa Del Maestro, the South Bay Labor Council Executive Officer Jean Cohen said she didn't know anything about it but that there is a "crisis everywhere in terms of the abuse of workers and wages being stolen, immigrants and poor people being taken advantage of by this underground economy." 
David Bini, Executive Director of the Santa Clara & San Benito Counties Building Trades Council, wasn't so reticent.
"It's my understanding that companies that have been identified at Casa Del Maestro are paying 30 to 50 percent less than standard for construction, repairs and maintenance work," he said.
"They're not asking the teachers who live there to take a 30% pay cut to teach the children of those workers," he continued. "Why are they asking the construction workers to take a pay cut?" 
The Weekly wasn't able to speak with representatives of SCUSD, the teacher housing foundation or Labor Council as of press time. 
PPA Perennial Reporting Issue for Gillmor, But No Violations Found
How Gillmor reports her interest in the Public Property Advisors business has come up repeatedly over the many years she's been in office and was the subject of a 2018 lawsuit. 
The judge in that case ultimately found no proof that Gillmor had concealed revenue from the business and dismissed the case, awarding Gillmor lawyers' fees. The question hinged on whether Public Property Advisors could be reported as part of the parent company or had to be reported separately. 
In 2017, the Santa Clara County District Attorney talked to Gillmor about "deficiencies" in her Form 700 disclosures with respect to other Gillmor businesses. From 2011 through 2015, Gillmor failed to disclose that she was part owner of Gillmor Properties LLC and Gillmor Children's LLC, both of which own significant amounts of real estate in Santa Clara and Gilroy. Gillmor amended her filings to add those entities but didn't separate her PPA interest.