"Beyond Borders: Stories of im/Migration," can be viewed through April 6 at Santa Clara University's (SCU) Edward M. Dowd Art and Art History Building Gallery. The exhibit confronts one immediately with walls to breech, borders to cross at risk of life and miles to go before one sleeps.
It "explores the personal and observed narratives surrounding the struggles of flight, the immigration process, asylum, assimilation, deportation, threats of violence and the perception of being 'other' within the American culture," write the exhibit curators, Karen Gutfreund and Sherri Cornett with Gutfreund Cornett Art.
At the Feb. 2 opening reception for the free exhibit, attendees were able to hear the stories behind the art of five of the two dozen international artists represented in the exhibit during a one-hour panel discussion.
SPONSORED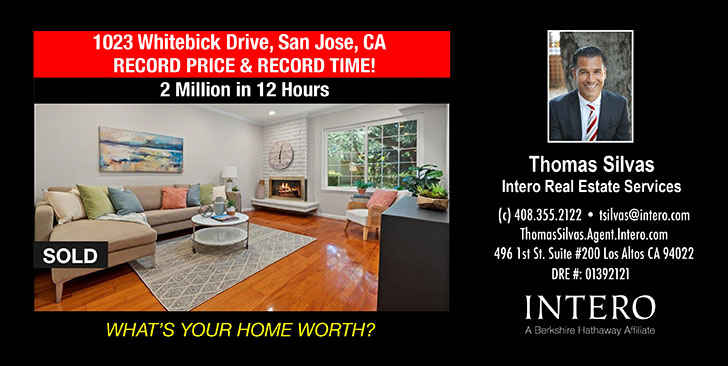 The five artists, now living in the U.S., were Texas-born Tessie Barrera-Scharaga with Latin American roots, Carlos Cartagena from El Salvador, Priscilla Otani from Japan, Doerte Weber from Germany and Shannon Wright from San Jose, CA.
Visitors enter the art gallery through the building's foyer, passing by Wright's "Feral Fence"—a giant, twisted chain-link fence with barbed wire. Cartagena's mixed media on canvas painting "Estatuas de Sal (Pillars of Salt)" dominates the gallery wall to the right. It shows four children wearing orange life vests for a river crossing to escape to the U.S.
Barrera-Scharga's "Cartography of Longing" is on a wall at the opposite end of the gallery. Her three mixed-media pieces allude to areas of the American continent where she has lived and traveled with her family.
Otani's installation "Our Hearts Beat As One" is made of Japanese paper umbrellas and orange and black butterflies cut from funeral paper. It was inspired by the migration of Monarch butterflies, paralleling human migration.
Weber's "Checkpoint Carlos," three panels, 8×4 ft. each, are woven from protective, plastic newspaper sleeves. She wove 12 panels in total. In 2015, she temporarily placed them perpendicular to the border wall in Brownsville, Texas, symbolically opening passageways between the U.S. and Mexico. That border wall near her current home in San Antonio, reminds her of the Berlin wall that once divided her home country of Germany.
The panel discussion was followed by a gallery viewing allowing attendees to speak individually with the artists, enjoy light refreshments and listen to live music by LoCura Musica, a three-person Latin alternative music group (www.locuramusica.org). The Salon event was sponsored by SCU's College of Arts and Sciences Center for the Arts and Humanity.
"We're honored to be able to facilitate these kinds of discussions that are so timely and have a big impact on our community," said Studio Art lecturer Julie Hughes, who welcomed attendees to the Salon.
Gutfreund Cornett Art (www.gutfreundcornettart.com) specializes in creating exhibitions on themes of 'art as activism' to stimulate dialog, raise consciousness and encourage social change.
Through the end of March, SCU Presents is offering film viewings, dance, music and drama performances. Some focus on Arts for Social Justice and are free to the community. For information about SCU Presents events, visit www.scupresents.org.