In April, Santa Clara City Council Member (District 5) Suds Jain took swapped out his City Hall responsibilities for his role as a certified UC Master Gardener at the Santa Clara County Master Gardeners' Spring Fair.
"We sold about 20,000 plants and about 3,000 people come to the event," said Jain. "We have not done an in-person event for three years, so we weren't sure how many people would turn out. But we had a great turn out."
The annual event celebrates the valley's farming history, offering something for every gardener from beginners to experts, and rare plants as well as familiar favorites.
In addition to opportunities to buy a huge variety of plants raised without pesticides in the Santa Clara Valley, the Fair offers Q&As and talks by Master Gardeners, and even a Green Elephant sale with opportunities to pick up used garden equipment, tools and books at bargain prices.
City gardeners were also out enjoying the nice weather at the Eddie Souza Community Garden, putting in their summer vegetables.
"This garden is truly a gem," Jain said. "Lots of kids come to the garden. It's a place right in town where people  can learn how to garden without any chemical insecticides or fertilizers."
Jain is pleased with the strides Santa Clara has made toward sustainability leadership.
"With the City Council approving the Central Bikeway a couple of weeks ago," he said, "and Santa Clara's strong Climate Action Plan and Reach Codes, Santa Clara is becoming a leader of environmental sustainability. Many thanks are due to the City's fulltime sustainability manager, Michelle Templeton."
The community garden isn't just for those who don't have space for gardening. Jain grows tomatoes at the Souza Garden because his yard is completely shaded.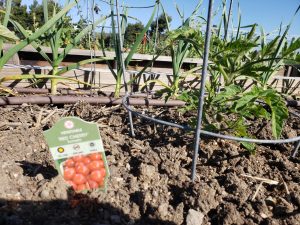 There are open garden tours on the 2nd and 4th Wednesdays of the month, 4:30 to 6 p.m. Every second Sunday there's a Garden Share from 10 to 11 a.m.
The Eddie Souza Community Garden is located at 2380 Monroe St. in Santa Clara.