Liam Brennan and Mateo Garcia spent much of the 2023 high school track season pushing each other in both shot put and discus.
"The last top invitational we had, Liam and Mateo battled it out," chimed Bruins' Throwing Coach Paul Fuller. "Liam hit a low 170s that day and won discus. Then he went to shot and PRed [personal recorded] by like four feet. Mateo PRed as well that day, they finished one and two. The two were battling it out for first place in shot put. They compete against each other, but they are teammates so it's a fun competition. They have so much fun energy between them."
"It does help knowing that I'll at least have one person in my corner," responded Garcia on having Brennan as a teammate. "He really helps push me. There was a meet at Los Gatos where he had a big PR and I was having like an average day and then that helped me PR. It was like 'hey this is my teammate, he's doing well, I should be up there with him."
SPONSORED

Brennan concurred with Garcia's sentiment on their camaraderie, saying, "that brotherhood that we have formed has made me perform far better than if I were to do this alone."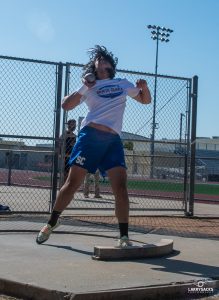 The Santa Clara seniors competed in both throwing events throughout the regular season, but each one qualified for the State meet in separate events. Garcia qualified for shot put with a second-place finish in CCS, throwing a 53'3" distance in the final.
Brennan meanwhile set a school record with his first-place throw to win CCS in discus with a 176'6" mark.
"He broke the school record multiple times this year," noted Fuller on Brennan's stellar season. "I don't know if we have ever had a discus champion at our school."
Not only did Brennan set a school record with his first-place CCS throw, but he would yet again shatter his own record during the first round of throws at the State meet that took place in Clovis on Friday, May 26. Brennan finished the day in second place with a whopping 186'2" mark, almost ten full feet further than his previous high.
With that throw, Brennan was one of 12 discus qualifiers for the second day of competition. His best mark on Saturday was a 183'00" throw that had him finish in fifth place. Garcia meanwhile finished 19th in shot put with a throw of 51'0.5".
While the two friends will now graduate, Brennan is hopeful that the example they set for the underclassmen throws will help the program grow with more and more school records broken in the future.
"I'd like to be a mentor of excellence, to be able to show the new throwers and athletes just what is possible. I don't think I'm that genetically great," chuckled the senior. "I may be a bit tall, but I'm not as tall as Mateo, and I think getting lesser physically gifted people into throwing and sports, in general, is not only a very good thing culturally but a great thing for their health and well-being."
SPONSORED