In the first game of a 5-game set at Wilcox High School, Chargers' Middle Hitter Juan Ruezga (14), jumps to hit the ball over the net as Fremont Firebirds Sophomore Eli Geddes (10) gets ready to jump to block. Wilcox won the first game 25 – 21. However, the Chargers went on to lose the match 3 games to 2 on Friday, April 7.
The Wilcox volleyball team hosts Santa Clara on Thursday, April 13.
Wilcox Softball Defeats Fremont
Meanwhile, on the Firebirds' home turf, the Wilcox Chargers softball team defeated Fremont High School in a non-conference matchup. On April 7, Wilcox scored four runs in the top of the first inning and Fremont came right back, scoring three runs in the bottom half of the inning. Both teams scored twice more in the third inning, but that's where the scoring ended.  The one additional run Wilcox scored at the top of the first would be the difference maker. Both teams displayed outstanding fielding as they kept runners from scoring in their respective frames.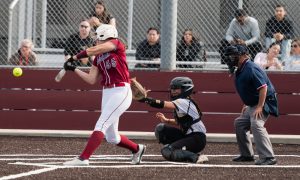 Here, Fremont Catcher Katie Grant (55) flies out to Center Fielder Rayanna Hernandez.
Wilcox will visit San Mateo on April 13 in another non-league matchup. This is a rescheduled game from March 9. The initial game was canceled because of rain.
Wilcox Chargers' Head Coach Mark Gutierrez previously told The Weekly that points from non-league games can be just as important to teams looking to make the postseason as the league games.
"It hurts all teams due to needing the points to make it into CCS. We missed out on CCS last year because of points compared to the other teams," Gutierrez said last month. "I think non-league games are just as important as league games nowadays. What I mean is, we are always looking to play top-seeded teams because whether we win or lose, we get points. So, if we can't reschedule the games, we miss out on the opportunity for points."