In 2011, Soroptimist International Santa Clara Silicon Valley (SISCSV) put on its first-ever Classy Bag Luncheon and Auction. It was such a hit the group has been doing it ever since.
Every year it draws more guests who say it's among Santa Clara's most entertaining charity events. And it's not just a ladies' luncheon anymore. More men are getting in on the fun and the opportunities to get deals on sports tickets and vacations.
This year's event on May 20 at the Marriott Hotel in Santa Clara drew over 200 people to bid on more than 40 treat-stuffed bags.
SPONSORED

Each bag — there were also backpacks and sports bags — was a fashionable new or classic bag. The items inside included vacation stays, gift certificates, VIP Giants and 49ers tickets, Taylor Swift tickets and even a sailing excursion on San Francisco Bay skippered by Council Member Suds Jain. In addition to the auction, there were raffle prizes, a silent auction and door prizes for lucky ticket holders.
"I am in awe of the great variety of auction items and even more excited that I won the bid for the Sonoma Wine Tasting tour," said Santa Clara resident Fatima Arias. "This will become a yearly event for me from now on."
This year's luncheon grossed a record-breaking $77,000 — $12,000 more than last year, according to event chair Birdie Pacelli. The entire profit will go to the Soroptimists' scholarship and community service projects.
"This event has enabled us to give over $69,000 over the last five years to young women for their education and training," said SISCSV president Debbie Tryforos.
"Our mission is to empower women to become self-sufficient and be able to take care of their families. The best way to do this is to help them find a vocation or career," continued Tryforos. "The community has been so supportive of our mission and they have a great time doing so. We work very hard to put this all together and each year we are so glad we did."
For event chair Pacelli, who designs nearly all of the gift bags for the auction, the event is a labor of love.
"My inspiration is drawn from the tremendous energy of the members," she said. "These are passionate women who are determined to help underprivileged women to achieve their dreams through education. I am elated that each year we are able to surpass previous year's financial result."
"I love meeting all the women while raising money for a very good cause," said Cynthia Hanz. "This has been the best year ever."
One of the main beneficiaries of the fundraiser is the Soroptimists' Live Your Dream award, which provides financial assistance to women entering or re-entering the workforce.
Other programs that the club supports include: Dream It, Be It career support for girls; the Family Assistance Christmas Store, bringing joy to more than 100 families who would have no Christmas otherwise; and HomeSafe Housing for battered women and monthly birthday parties for children at domestic violence shelters.
Visit siscsv.com for more information on SISCSV.
Auctioneers with Special Tie to Santa Clara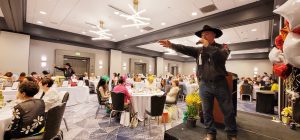 This year's auctioneers were Dave Goulart and Forest O'Brien of Sale Maker Auctions. Goulart is a native Santa Claran and a former Santa Clara Firefighter. The pair have been in the auction business for more than 20 years, and, although they do many kinds of auctions, make a specialty of fundraisers for nonprofits.
They've done auctions for Santa Clara's SES, Washington Open School, Saint Justin's school and the Parade of Champions.
Coming up, they'll be calling the bids on June 10 at American Legion Post 419's Annual Car Show from 10-3 at 958 Homestead Rd Santa Clara. Admission is free.