Yesterday, Tom Shanks burst into the spotlight with a Mercury News broadside attacking the ethics of Santa Clara City Council Members not named Lisa Gillmor or Kathy Watanabe.
Mr. Shanks was a paid consultant to the City of Santa Clara until 2015, during which time we do not recall him customarily finding that the conduct of the people paying him was actually unethical. If anyone can enlighten us otherwise, we would welcome that information.
Since he left the City's accounts payable register, he has not been heard from on the subject of the conduct of Santa Clara's elected officials. Until now. We don't presume to know, and won't speculate on, his motives.
However, one thing requires no speculation: He emerged like a cyclic cicada from a seven-year cocoon of indifference about Santa Clara politics 60 days from an election in which four-decade politico Lisa Gillmor finds herself facing a competitive election for the first time in 30 years.
As we are hearing so much these days, the U.S. Justice Department refrains from public comment and indictments of candidates 60 days before elections. This is an example that Mr. Shanks should consider in the interest of his reputation as an impartial judge of public ethics.
However, now that Mr. Shanks has inserted himself into Santa Clara politics, The Weekly welcomes his opinion on other public issues, some of which occurred while Shanks was being paid by the City.
Let's start with the election of 2004. Was it ethical for the Gillmor family to pass out envelopes containing more than $99 in cash to city council candidates? It was assuredly illegal.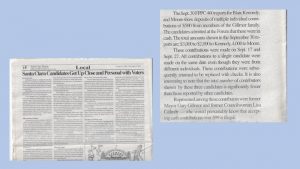 In 2010, Lisa Gillmor spent $5 million of Jed York's money to pass Measure J and build Levi's Stadium. As Mr. Shanks now thinks such independent expenditure spending by the 49ers is unethical, was it unethical in 2010? Did he write a Mercury News editorial about it in 2010?
In 2016, the Santa Clara police union PAC became a clearing house for developer money. This money was spent in the 2016, 2018 and 2020 elections on push polls and vicious and libelous campaign mailers, including the one below. Is this kind of "gray money" operation ethical?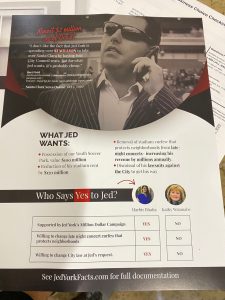 These mailers used an official-looking and misleading "seal of the mayor of Santa Clara." Was that unethical? How do these libelous mailers fit into the picture of public ethics? Was it ethical for the police chief to put his personal endorsement on the slanderous mailers? Does electing allies justify any libel no matter how scurrilous?
Then there's voting rights. What were the ethics of the Santa Clara City Council willfully preserving a political system that kept an all-white city council in power in a 60% minority city? Is structural racism at work here? Mr. Shanks was on the City's gravy train in 2011. We don't recall him having anything to say about disenfranchising 60% of the City's residents.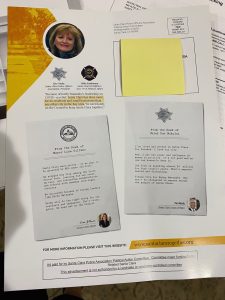 Further, what were the ethics of wasting $6 million in taxpayers' money — one-third of the current deficit — not only fighting the lawsuit but appealing it as well on an argument about the meaning of "usually"?
Another ethical question comes out of the fight for fair representation in Santa Clara: What are the ethics of wasting over half a million dollars on losing ballot measures to undo the six council election districts ordered by the judge in the CVRA lawsuit?
Here's a doozy of an ethical question that we don't recall Mr. Shanks opining about. What are the ethics — and civic transparency — of fired city attorney Brian Doyle concealing a settlement offer from the city council that would have settled the voting rights lawsuit for $2 million less than the City ended up paying after the appeals court found in favor of the plaintiff? We know that the California Bar takes a dim view of this kind of conduct.
Finally, what were the ethics of the million-dollar payday for the City's outside attorney in the CVRA case — a business crony of the Mayor's political advisor Jude Barry — who was hired to argue the City's case in court despite never having litigated a single CVRA case?
Let's talk about leaks. What are the ethics of routinely leaking confidential documents and closed session information to the San Francisco Chronicle, as Gillmor routinely does? We know what state law has to say about it: it's against the law.
What are the ethics of governing by personal agendas and resentments and cronyism?
As long as Gillmor controlled the council, she and her cadre obliterated concert revenues with a unique and unreasonable curfew — eliminating the single source of stadium revenue that goes directly to the general fund, as well as indirect revenue from sales and hotel taxes.
Gillmor also hired an $800,000 city manager — a contract that included a $3,500 "housing allowance" even though said city manager lived only blocks away from City Hall, in Sunnyvale. Gillmor irresponsibly allowed an explosion in top City salaries and paid nearly $1 million to a consultant whose most notable achievements were losing $10 million for San José and being the subject of two grand jury investigations.
We invite Mr. Shanks to address these ethical questions in our publication, as well as explain why he suddenly found it necessary on September 8 to jump into Santa Clara politics after his long sabbatical.