Seventy-two-year-old Walter White, a U.S. Vietnam War Air Force veteran, perched on the seat of his walker, watching from a distance as the traditional Veterans Day service unfolded at Santa Clara's Veterans Memorial in Central Park on Nov. 11 at 3 p.m.
"I came to remember all of those who cannot be here today, who made the ultimate sacrifice," said Tech Sergeant White, a Santa Clara resident who served from 1967-1987.
Santa Clara Mayor Lisa Gillmor and City Council members raised the flag. The Cupertino Symphonic Band played the National Anthem. U.S. Navy Lieutenant Commander Stephen J. Gustafson, chair of the Veterans Memorial Committee, led the Pledge of Allegiance to the flag of the United States of America and to the republic for which it stands.
Quoting Pew Research in his remarks, Gustafson said that the U.S. has more than 18 million living veterans, a declining number making up about 6% of the population. Of those, 78% served during wartime.
Ninety-two-year-old Menlo Park resident Virginia (Ginnie) Shefchick is one of the 11% of female veterans, a number that is increasing. She served in the U.S. Navy Nurse Corps for a little over six years, enlisting in 1955.
Shefchick was influenced to join the military by the example of an uncle who served in WWII.  A conscientious objector, her uncle served on the Pacific island of Guadalcanal as a litter bearer. He was awarded the Bronze Star for bravery under fire.
"I felt highly honored and respected by everyone when I served," said Shefchick. "And I enjoyed and appreciate this ceremony very much."
Vietnam War veterans such as White, however, did not feel honored for their service.
"It was difficult coming home because no one appreciated what we were doing," said White. "We're appreciated much more today.
"Now they have two wars—with Israel and Ukraine. Too many babies and children are getting killed, caught in the middle with no safe place to go," he added.
Hope Lutheran Church Associate Pastor Jim Clark-Moore offered interfaith prayers. Six members of the American Legion District 13 Honor Guard fired a rifle volley. Taps closed the ceremony.
Master of Ceremonies Larry Wolfe was Director of Parks and Recreation in 2002 when the Veterans Memorial was dedicated. He pointed out that it is the only City project funded entirely by community contributions.
"This world would be a much better place if they [governments] were spending money helping people out instead of killing them," said White. "Maybe I can live long enough to see some of these wars come to peace."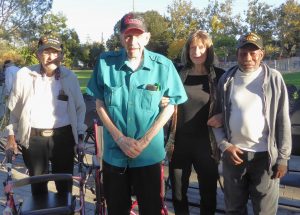 Thank you for your service, Walter White, Ginnie Shefchick and your comrades.
"Your courage and dedication are humbling. Thank you for your commitment to this country," said Mayor Gillmor. "We salute you."
To connect to the new 24/7 Veterans confidential crisis line, dial 988—the National Suicide Prevention Lifeline. Then press 1 to connect to the Veterans Crisis Line. Or text 838255. Visit https://www.veteranscrisisline.net for live chats.