The City Council will appoint a charter review committee to consider changing the elected police chief and city clerk positions to jobs appointed by the city manager. The decision was made at a June 6 study session. Santa Clara's 1952 charter established both positions as elected and voters must approve changes.
Even before discussing the proposal, the council spent half an hour talking about whether to discuss it at all.
Council Member Kathy Watanabe said "the optics were not good" to have this on the agenda without the public being "made more aware of and have better notice." The question was introduced in early 2021, again in August 2022, and has been on the Tentative Meeting Agenda Calendar (TMAC).
SPONSORED

Mayor Lisa Gillmor was dismissive. "They've [her council colleagues] already made the decision to go to the charter review committee," she said. "They're saying they're not listening to you [residents]…We don't have to put something on the ballot that the residents don't want."
Familiar Attacks
The rest of the three-hour discussion was dominated by opponents who repeatedly attacked the proposal as a 49ers-led conspiracy and demanded that the Council listen to "the people" and abandon the idea of a ballot measure to decide the question.
"Jed York wants to pick our police chief, and you guys don't even want to know it," said Debbie Tryforos.
"Thirty-three thousand votes came in for Chief Nikolai, who ran unopposed," said Lee Broughman. "I think that should tell you something."
"I have heard from no one that they want to change the elected police chief," said Gillmor.
She contended that the reason for this was a "vendetta."
Council Member Karen Hardy noted the apparent contradiction.
"Those who want to keep the elected police chief seem to be afraid of a charter review committee and an election, which makes no sense to me," she said. "If you're so adamant about the people having a voice, they should have it."
Police Union Weighs In With Members' Money
Jeremy Schmidt, president of the police union — the Santa Clara Police Officers Association —said the union had "a number of concerns."
Schmidt referenced a "confidential"* police union poll that found that although 66% of 350 respondents didn't know the police chief was elected, 73% of them preferred an elected police chief to one described as being "appointed by city leaders."
The police union has already posted a petition "to protect the elected police chief," a website and Facebook ads.
"Our City is unique, and our elected chief is unique," said Schmidt, who followed up with an offer of union money to the City.
"I'm going to issue you guys a challenge tonight," he continued. "I'm going give you guys a $432,000 offer because putting this on the ballot is $432,000…If you want another one of these [union-run opinion poll], I'll do one right now at the cost of the men and women of the Santa Clara Police Officers Association. I'll call the company as soon as I leave. But I want one agreement that the majority of this council agrees to act on the results of the survey."
Are Unopposed Candidates 'Choices?'
Schmidt's remarks drew a sharp response from Council Member Suds Jain.
"Santa Clarans don't have a choice in selecting their Chief…current Chief of Police, Pat Nikolai, ran unopposed [in the ] last two elections," as have most chiefs in the city's history, Jain said.
"I hear that Dan Winter decided not to run against Pat Nikolai in 2020 because POA vowed to spend $250K to oppose Dan…[an] Assistant Chief of Police… B.A. in Management, a J.D. from SCU and a member of the California Bar," Jain said. "Nikolai's main qualification seems to me that he was POA president for 18 years."*
"Nikolai is certainly not impartial," continued Jain, detailing an October 2022 political press conference "illegally held within 100 feet of a ballot box" and, during the election, writing "a public letter to District Attorney Jeff Rosen asking him to investigate findings in the Grand Jury report even though the Grand Jury made no criminal referrals."
Further, only 12 SCPD officers currently live in Santa Clara, Jain noted and would be eligible to run for police chief. (Note: Neither of Santa Clara's Assistant Police Chiefs live in the City of Santa Clara.)
Watanabe said she was "frickin' outraged…at what has been said…The hypocrisy is dripping." She demanded to know "who helped Council Member Jain with his statement," adding accusingly, "There's motivation behind it."
"No one wrote anything for me," Jain responded. "I spent hours researching to make sure I had the facts. I resent these false allegations."
Council Members Change Tack Depending on Who's Chief
Council Member Kevin Park observed that from the perspective of democracy, "an elected chief makes a lot of sense," but Council's discussions are "often" driven "by who the elected police chief is" — i.e. politics.
The last time there was a discussion about making the positions appointed, he said, was because the police chief was Chief Sellers, who had just beaten Gillmor-endorsed Nikolai.
"In the short term…what's being discussed [is that supporters of election] want chief Nikolai to be the police chief," said Park.
By way of illustrating the pervasive politics at work, Park noted, "We have council members up here [Watanabe] who could not thank Dan Winter," the retired assistant police chief now an Intel security director, "for personally delivering COVID test kits to the City. Would not get up off their seats [to] take a picture with Winter."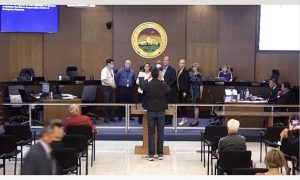 Before the vote to move ahead with a charter review, Park expressed frustration at the seeming circular conversation.
"It seems like the one side that's decided that they don't want this on the ballot without public input is accusing another side of: wanting to move forward with a work plan to get public input without listening to public input. It doesn't make any sense," said Park.
The Council voted 4-3 to appoint a charter review committee of 11 members to be appointed by the City Council in July, with Gillmor, Park and Watanabe voting against. Park said he wanted to investigate other ways besides a charter change of addressing concerns with the elected police chief.
You can find the study session on YouTube at 1:55 through 4:25.
*The poll was titled, "Confidential."
Santa Clara's Dual Systems
The background to this discussion is Santa Clara's atypical police chief and city clerk positions, which have elected figureheads and assistants that do the actual jobs. Santa Clara is California's only city with an elected police chief; although others have Santa Clara's two-tier city clerk arrangement.
Prior to 2018, the elected clerk and chief functioned in the same ways as their appointed counterparts, with their compensation treated like that of other city employees. That year, the city council made the elected city clerk a figurehead position, with the actual work of the office going to the Assistant City Clerk.
In 2019, former city manager Deanna Santana advised the council that it was illegal for the police chief's compensation to be set by the council, and the Council created a Salary-Setting Commission to set the salaries of the clerk, police chief, mayor and council.
In early 2020, Santana created two assistant chief positions reporting to the city manager. These assistants share the management responsibilities of the police department, as well as attending management meetings and signing authority.
"Assistant Chiefs work cooperatively with the Elected Chief and report to the City Manager," city spokesperson Michelle Templeton told The Weekly.
Currently, only a dozen SCPD officers live in Santa Clara. The Weekly's research shows that the current elected chief and former police union president Pat Nikolai, has fewer educational and professional qualifications than other police chiefs in California.
Back in 2018, the appointed-vs-elected shoe was on another foot. In February 2018, the Council majority — Gillmor, Watanabe, Teresa O'Neill and Debi Davis — voted for a ballot measure for an appointed clerk. The question should be put to voters, Gillmor said, because "we haven't checked into that in many decades" and she wanted to "see all our options."
At that time, Watanabe said it was "important to put this out to the voters to make the decision," and added some more options to the mix.
"In the cities where the city clerk is appointed, they're appointed by the City Manager, which makes sense to me," said Watanabe.
In a 2016 email to a friend that the Weekly received, then-Council Member Teresa O'Neill wrote that the election race between Sellers and Nikolai, "will get more people thinking we need to get rid of the elected police chief."
The $423,000 cost of a ballot initiative is roughly the annual cost of maintaining Santa Clara's two-tier system.
SPONSORED