Creativity and innovation are the trademarks of Silicon Valley, and Sunnyvale's new city hall unmistakably showcases this. Earlier this month, the city whose motto is "The Heart of Silicon Valley" celebrated the opening of the new building in a ceremony that honored the many people who made a 2014 idea a reality.
Mayor Larry Klein honored all the city council members since 2014, "who shepherded us through many decisions that brought us to this day. We began construction in December 2020 during the pandemic with no idea what would happen.
"This is the first time the city staff is in one place all together," Klein continued, "in a welcoming, walkable space that is a model of our values, and engaging and inspirational for our community."
Everything about the 117,000 sq. ft. building — from its Net Zero carbon footprint to its inviting, airy spaces — reflects today's best thinking about public building design. The new building is phase one of a complete remake of Sunnyvale's 1960s-era civic center and includes a new public safety emergency operations center. In the future, it will house a new or expanded library, six acres of public open space and an outdoor amphitheater.
Even before it was open, the building was one of the Business Journal's 2022 Structures honorees for civic/public buildings.
"This moment has been eight years in the making," said City Manager Kent Steffens. "And it continues Sunnyvale's leadership toward its climate action goals."
Environmentally Conscious and Aesthetically Beautiful
With a LEED* Platinum rating (the highest), the all-electric building is completely powered by roof-top solar panels —some of these panels are two-sided to pick up reflected sidewalk light.
"This will be the first city hall in the nation to achieve both exceptional standards: Net Zero carbon and LEED Platinum," said Klein.
The solar panels produce enough electricity to power more than 100 homes for a year.
"Repurpose and reuse" was also a priority. The City of Sunnyvale did its best to source as many materials as possible from California. And reuse was a priority. The redwood trees that had to be removed became the benches and tables that are throughout the building.
The floor-to-ceiling bird-safe windows, light wells, and the orientation of the building, all make maximum use of natural light. Intelligent building controls automatically adjust window shades for optimum cooling and heating. Designed for earthquake safety, the electric system has battery storage for backup.
A True Center of Community
One of the goals of the new civic center is to be truly a center of the community, not just a public office building, explained Klein. There's a large public patio and meeting rooms open to the community. Every department has a reception area to welcome visitors, and the planning department has an inviting one-stop permitting desk.
Commissioned artwork from a Bay Area artist adorns each floor. All of the art depicts the natural scenery and agricultural history of the Santa Clara Valley. One percent of the budget was set aside for public art in the building and the future amphitheater.
The circular, floating staircase that goes through the center of the building is in itself a work of art and invites the eye into the building.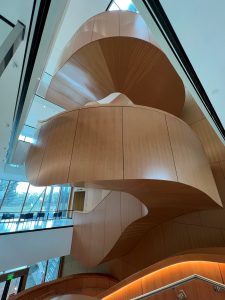 "It's like an elegant museum," said Assistant Director of Public Works Jennifer Ng.
Designed to welcome the community to attend council meetings, the new City Council Chambers has a sloped floor with comfortable, upholstered seating, and has 100 more seats than the old chambers. Even the lighting is designed for comfort and filters down through triangular shapes to evoke sunlight filtering through tree branches.
The open-plan workspaces are designed for communication and collaboration, with plenty of meeting rooms and outdoor patios on each floor. Cubicles have low dividers topped with glass to make conversation easy.
Each floor has its own well equipped break room, and the building has two privacy rooms and two mothers' rooms. Ventilation systems are equipped with specialized filters to ensure a healthy environment.
A Ten-Year Journey
Sunnyvale's new civic center was a decade in the making. The city had long outgrown its 1958 building — built to serve a city of 30,000 — and its 1970 annex. In 2014, the council approved $400,000 for initial studies, out of $6 million that had been allocated for future development of a new civic center.
Six years later, the Council, as the Sunnyvale Financing Authority, issued $160 million in bonds to finance the project and a new civic center was on its way. Finally, ground was broken for the new building in 2020.
"What kept the project on track was a supporting council and a lot of hard-working community members supporting us," said City Manager Steffens.
"This building reflects a forward-looking city," said Council Member Richard Mehlinger. "Sunnyvale is in the heart of Silicon Valley and the building reflects that."
A public grand opening celebration is planned for September 23. Sunnyvale's new city hall is at El Camino Real and South Mathilda Ave.
*Leadership in Energy and Environmental Design as rated by the US Green Building Council.
SPONSORED