ArtCircle Studio is about more than drawing circles.
The name of the Sunnyvale-based art studio stems from a group of friends who recognized and supported its founder, Deepti Nanawati.
"Some of our family friends started sending their children to learn drawing from me," she recalled.
SPONSORED

For Nanawati, the creative interest has been a longstanding one.
"I drew, painted and modeled clay as a child," she said. "Art was my go-to resort in my 'me-time' whenever I was stressed, or lonely, in between jobs, or life changes.
"I immersed myself in this opening that seemed like a blessing, and started to share my skills and knowledge," Nanawati said. "I was happy with sharing whatever I knew, less or more, if it could help empower anyone."
Nanawati's story as a teacher conforms to the proverb that a good instructor not only teaches, but learns from her own students.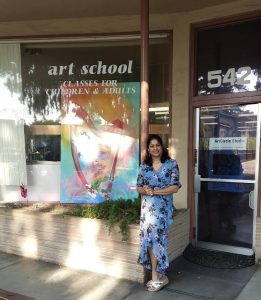 "Through sharing my skill, I could also delve deeper into learning art myself – to read and explore aspects that I wanted to understand more," she said.
According to Nanawati, her Sunnyvale art studio is another child. ArtCircle was born 6 years ago, as was her youngest son. She views them as twins.
"It has given my family a wonderful side project that we together nurture, as there are aspects of running an active art studio that involve other than art skills," said Nanawati.
"Personally, it gave me creative engagement with art and community, and time to care for my newborn as it is a part-time activity with plenty of avenues for self-growth," she continued.
In Nanawati's opinion, a picture really is worth a thousand words.
"Visuals carry more information than words can express. It's a universal language that can bridge across countries and cultures," she explained.
"A visual impacts silently, but deeply and for a longer duration through its mere presence. Like a painting hanging on a wall, whether at home, school, a medical facility or work, it impacts the environment and those experiencing it," Nanawati continued. "It can instill values, start conversations, impact opinions, create a sense of place, and translate experiences and perceptions anywhere.
"While most activities drain, art done the right way refuels," said Nanawati.
There is an art camp for children held every summer.
"Young artists explore art fundamentals, art history, art styles, skills and techniques, and different aspects of visual arts primarily focused around drawing and painting," Nanawati explained.
"Many of our campers found their love of art and they chose to go deeper by joining the regular year-long classes in a studio setting," said Nanawati. "They take pride in creating art as gifts for friends and family, decorating their walls in their home, participating in collaborative art or contests, preparing an art portfolio and sometimes selling their original artwork."
Manga and anime-style art has been especially popular recently, said Nanawati.
According to Nanawati, there has been growing interest in arts in a region where many adults, unfortunately, neglect such passions for career reasons.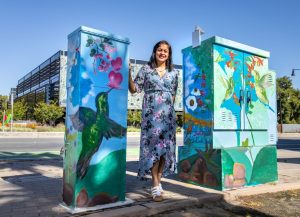 "More adults should make time for regular art practice as its benefits on both a personal and social level are immense," Nanawati said.
There is a talented community of adults who paint regularly at ArtCircle. Nanawati organizes collaborative projects and art shows to showcase and promote their art. For those who say they lack artistic skills, Nanawati has some words of encouragement.
"Some of us are more inclined towards some natural ability, others towards a different one. Even if you feel you have no artistic skill, there are certain aspects that can be developed with practice," said Nanawati. "Or you can develop an appreciation for art. If creating art is overwhelming, there is still the scope to enjoy, understand, support and enrich our own lives."
ArtCircle Studio is located at 542 S Murphy Ave. in Sunnyvale. For more information, visit the Sunnyvale company's website at https://www1.artcircle.studio/.
Other Small Business Posts:
Prayukti Arts Aims to Preserve South Asian Arts
Fozzie's Kitchen Serves Up Freshly Prepared Dog Food